Real Estate News: Las Vegas - May 2014
Posted by Debbie Drummond on Friday, May 9, 2014 at 3:47 PM
By Debbie Drummond / May 9, 2014
Comment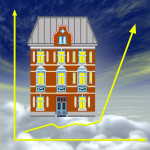 The bargain basement deals have faded but we are still finding some great values available in Las Vegas. As Clear Capital reported in their monthly report, the values are now found in mid-priced homes. Las Vegas is still in Clear Capital's list of top Metro Markets at 5th place with 17.9% appreciation over last year.
The number of homes for sale in Las Vegas and Henderson continues at a stable level. Predictions of shadow inventory flooding the market still haven't materialized. We have 6380 single family homes for sale without accepted offers. Buyers who will consider condos or town homes have a 2337 options available. We have a total of 8717 homes for sale in the MLS.
Only 6%, or 539 of the homes available are foreclosures. Unfortunately, 13% (1150) are short sales. At 19%, the number of distressed sales is still high but 1% lower than it was last month. Traditional equity listings account for 81% of current listings.
If the number of distress sales continues to decline at .5-1% per month, we'll be looking better by the end of the year.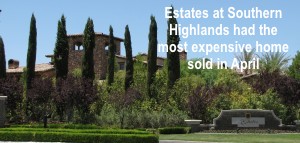 April Home Sales - We sold 2546 single family homes in April. Another 588 condos and town homes closed escrow. That gave us a total of 3134 homes through the Las Vegas MLS last month. This is a slight increase over the 3007 we sold in March.
Only 354 of last month's closings were foreclosures. Another 398 of the homes sold were short sales. Seventy six percent (2382) of the homes sold last month were traditional sales.
Financing - Forty one per cent (1302) of the transactions that closed in April were purchased with cash. Conventional mortgages were used to buy 912 of the homes that sold. FHA, VA and Homepath loans were used in 864 of the closings.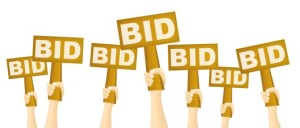 SOLD in 30 Days or Less - Forty-nine per cent (1552) of the homes that sold in April were on the market less than 30 days. In fact 1084 or 34% of the homes sold were on the market 15 days or less.
One third of the homes that sold last month were on the market for 15 days or less. If your home is sitting there for months or even a year, you might want to look at how it's priced, the condition and how it's marketed.
Ten of the quick moving properties sold for $1 Million plus. This includes two Summerlin homes that sold for $2M and $2.125M. The majority of the homes that sold in 15 days or less were in the lower price ranges. In fact, the median price of the homes that sold in less than 15 days was
How's the Market? Traditional wisdom - a six month supply of homes is a balanced market, more is buyer's and less is a seller's market. We are still in a seller's market. If no new homes came on the market and we continued selling 3134 homes per month, we'd be out of homes in 2.5 months. No wonder homes that are in good condition at good prices are selling in less than 15 days.
How are prices? The median price of homes sold took a slight dip last month. The Review Journal reports that our median price dipped slightly. It went from $195K in March to $192K in April. Prices are still up over a year ago. The rapid appreciation of last year has slowed a bit. We don't foresee a big drop in prices as long as inventory is this low.
Luxury Homes For Sale In Las Vegas -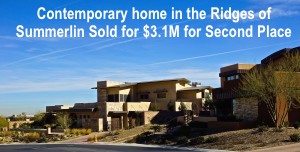 We have 401 homes listed for $1 Million or more. In April we sold 23 single family homes for more than $1 Million and four high rise condos for more than $1 Million.
Top 3 Luxury Home Deals in April:
Estates at Southern Highlands - 18 Augusta Canyon was listed for $4.5M and sold for $3.85M. This luxurious home offered 11059 sf of living space, 6 bedrooms, 8 baths and parking for 7 cars. Built in 2008, this home was listed for 110 days before accepting the offer.
The Ridges of Summerlin had the second most expensive closing last month. 35 Drifting Shadow was listed for $3.45M and sold for $3.1M. It offered 7333 sf with 4 beds, 6 baths and a 4 car garage. It backed to the Mountains and offered Strip views from the balcony. It was on the market for 222 days.
Queensridge came in third with 9910 Orient Express. This home was listed at $3.1M and sold for $2.7M. It was built in 2001 with 5 beds, 6 baths in in 7974 sf with a 4 car garage. The home was listed for 304 days.