Real Estate News: Las Vegas - Homes Sold in August 2015
Posted by Debbie Drummond on Thursday, September 10, 2015 at 1:12 AM
By Debbie Drummond / September 10, 2015
Comment
Homes For Sale in Las Vegas and Henderson
Ready to buy a home in the Las Vegas area? The Greater Las Vegas MLS has 7757 single family homes available for buyers. Condos, town homes and high rise condos add another 2357 options. We have a total of 10,114 properties available today. That's the first time we've crossed the 10,000 mark since December 2014. It's about the same number of homes available as we found a year ago. In September 2014 there were 10,161 homes available.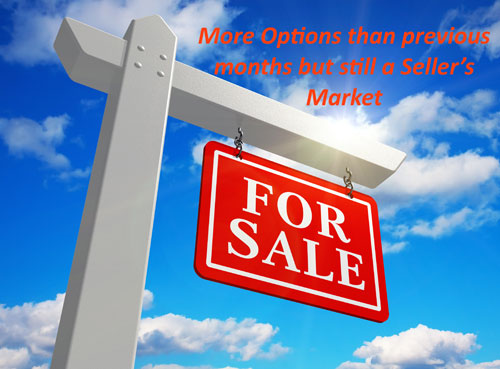 While the number of homes listed for sale is edging a little higher, we saw the same pattern in the Fall of last year. We've sold an average of 2478 homes per months for the past year. At that rate, the current inventory of homes would last 4 months if no new homes became available. Less than a six month supply is a seller's market. We would need over 14,500 homes for sale to become a balanced market. It would take more to return to a buyer's market.
What Sold in August 2015?
August was another great month for home Las Vegas sellers. We sold 2758 single family homes. Condos, town homes and high rise condos added another 600 real estate deals for the month. We sold a total of 3358 homes in August. That's an 8.5% decline from July. August does tend to decline from July as buyers and sellers try to enjoy the last days of Summer. While we sold less than July, we're up 10.1% over the total homes sold in August 2014. And if we only consider single family homes, we're up 11% year over year.
Las Vegas Distress Sales
Short sales dropped from July to August. We recorded 213 homes that sold as short sales in August. That's down from 262 in July and 352 in August 2014. We sold 236 foreclosed properties in August. That's also a drop from the 284 forecloses sold in July and 276 from August 2014. A total of 449 distress sales closed escrow in August. Distress sales were involved in 13.4% of the transactions. That's about the same as the 13.2% in July but a nice drop from the 20.5% in August 2014.
Financing
Buyers paid cash for 28.4% of the homes that sold in August. That's similar to the 27.25% last month and the 29.45% in June. Last year we were at 32% in August. Conventional mortgages were used in 34% of last month's deals. VA and FHA financing was involved in 36% of the homes that sold. For sellers this is an indication that you should be willing to accept FHA and VA financing. Refusing those loans takes away more than a third of the possible buyers.
How Fast Can Your Home Sell?
Homes are selling fast in the current Las Vegas Real Estate market. 50.1% of the homes sold last month found a buyer with less than 30 days on the market. If we look at 60 days, 69% of the homes were in contract. In this market, buyers should not waste time when you spot a home you like. The good ones don't last.
There are some segments of the market where properties take longer to sell. The high rise segment continues to see a longer time on the market. Out of the high rise condos that sold last month, the average days on the market was 137. Luxury homes also take longer.
Compared to Last Year:
We have .5% fewer homes for sale - 10,114 now compared to 10,161 September 2014
We're selling more homes - 11% more homes sold year/year
Fewer Distress Sales - 7.1% fewer sold compared to August 2014
Sold in 30 Days or Less - 50.1% compared to 49% in August 2014
Cash Deals - 28.4% this year compared to 32% one year ago
Median Price of Single Family Home - $220K Aug. 2015 Up 10% over last year
Las Vegas & Henderson Luxury Homes
Buyers who can afford to step into luxury have 436 homes listed at more than $1 Million available. This includes 346 luxurious estate homes and 87 luxury condos. That's a continuing decline that we've seen over the past months but similar to the 436 that were available a year ago.
The luxury home and high rise market is the one area where the market leans towards buyers. The current inventory would last a year and a half if no new homes were listed. While we have a surplus of homes available in the luxury market, the most popular communities are still seeing brisk sales.
Top 3 Luxury Homes Sold in August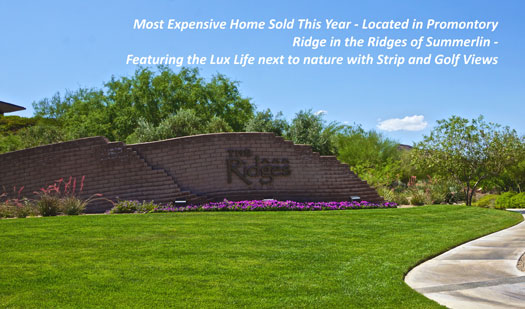 We sold 23 luxury homes that were listed for more than $1 Million and 2 high rise condos listed for $1M plus. Six of the homes sold for more than $2 Million.
7 Falcon View in the Ridges of Summerlin took first place for the month and this entire year. Listed at $17.5 Million it closed for $11 Million. This contemporary estate was built by custom home builder Sun West. It was ideally located in the Ridges to offer views and privacy. It offered 14,464 sf of living space on 1.6 acres of land. Six bedrooms, nine baths with golf course frontage on Bear's Best. Built in 2009, it was on the market 132 days before going into contract.
ONE Queensridge Place #1801 (aka The Crown Penthouse) was the second most expensive transaction in August. This 3 floor penthouse offered 15.691 sf of living space. It was finished with the finest touches, including a terrace pool. With 5 bedrooms, 9 baths and parking for 16 vehicles, this is an extraordinary home.
Third place was a tie with two homes closing for $3 Million each. To break the tie, we looked at the price per square foot.
16 Wild Ridge Ct. in the Ridges of Summerlin sold for $3 Million or $552/sf. This modern home was single story with beautiful mahagony and French Oak woodwork. It offers 3 bedrooms, 5 baths plus a casita in 5439 sf.
2 Ayden Dr. in Henderson's Anthem Country Club sold for $3 Million or $351/sf. This 9920 sf home featured a casita and an elevator. The home included 6 bedrooms, 8 baths with golf and Mountain views.