Real Estate News: Las Vegas - Homes SOLD in January 2016
Posted by Debbie Drummond on Friday, February 5, 2016 at 5:56 PM
By Debbie Drummond / February 5, 2016
Comment
Housing Market in 2016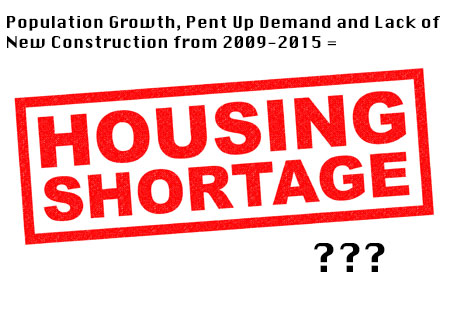 The stock market volatility has not dampened home prices. A Forbes' article examines reasons home prices appreciated 7.6% over the past twelve months. As NAR's Chief Economist Lawrence Yun explains, the continuing home price appreciation is a result of low inventory. The number of homes built from 2009-2015 didn't keep up with the combined demands of population growth and homes that are no longer usable.Add continued low interest rates and 2016 still looks promising for the Real Estate market.
What's For Sale in Las Vegas and Henderson
As of today there are 6543 single family homes listed for sale. We find 2289 condos, townhomes and high rise properties listed. Buyers have a total of 8832 homes available today. Over the past year, we sold 2894 listings per month through the Las Vegas MLS.
In the Forbes article, Dr. Yun points to only 3.9 months of inventory for sale Nationally.If home sales in Las Vegas continued at 2894/month, today's inventory would last 3.07 months.Lucky for Las Vegas home buyers, our builders are helping pick up the lack of inventory.
Distress Sales continue to decline but we still have them. Short sales are involved in 811 of today's listings (9%). Only 386 of the current listings are foreclosures (4.4%). The number of foreclosures is much closer to what you expect in a "normal" market. The number of distress sales should continue to decline as home values appreciate.
What SOLD in January 2016?
We sold 1706 single family homes in January.Condos, townhomes and high rise properties added 471 closings.Total homes sold was 2177.This is lower than our average of 2894/month over the past year.It's a drop from 2573 homes sold in December 2015.It's only slightly lower than the 2194 homes sold in January 2015.
Cash Buyers
Cash buyers purchased 681 of the homes sold in January (31.3%).That's a slight increase from 28.7% in December but lower than the 35.8% in January 2015. The number of cash buyers has been trending lower. Continuing turmoil in the stock market may encourage more buyers to move cash into Real Estate.
697 of the homes sold were purchased with Conventional mortgages (32%).FHA and VA loans secured 765 of the homes sold (35%).The steady increase in FHA and VA loans is indicative that first time buyers are coming back.
Distress Sales
While short sales make up 9% of today's homes for sale, they only made up 7.3% of the homes sold in January.Foreclosures were involved in 177 of the homes sold in January (8.1%).The foreclosures that are available continue to get snapped up by bargain hunters.
Days On Market
The most desirable homes do not languish on the market for long.923 of the homes that sold in January went into contract in 30 days or less (42.4%). 1347 of the homes that sold were in contract in 60 days or less (62%). Price it right and the buyers will act. We only see homes in the higher prices ranges and in the high rise market lingering for months.
Compared to Las Year
9.9% Fewer Homes For Sale (9805 last year/8832 today)

SOLD .8% Fewer Homes Than January 2015

SOLD 3.9% Fewer Distress Sales Than January 2015

SOLD in 30 Days or Less - 2.4% Higher than January 2015

Cash Deals 4.5% Lower than January 2015's 35.8%

Median Home Price $219K, up 9% over this time last year
Las Vegas and Henderson Luxury Homes For Sale
We have 303 luxury homes listed at $1 Million or more.Buyers can choose from 90 high rise condos priced at $1 Million plus.Combined they offer 393 luxury home options.We've sold 22.6 luxury homes per month over the past year.At that rate, today's inventory is still 17.3 months supply of luxury homes.This is why we continue to see luxury homes and high rise condos lingering on the market.It's the one area where we do not have a shortage of supply.
We only sold 12 luxury homes and condos in January.In January 2015, we sold 18 luxury homes listed for $1M plus.
Most Expensive Homes SOLD in January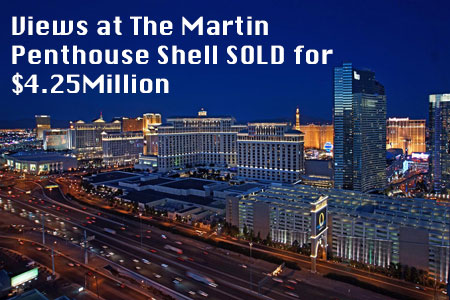 The most expensive homes sold in January were luxury condos. The top two were in high rise buildings and one was in Summerlin's Mira Villa mid-rise community.The most expensive single family homes sold was a resale in the Ridges of Summerlin. It tied the Mira Villa condo for third most expensive home sold.
The Martin Unit 4500 was the most expensive residence sold in January.This top floor penthouse was sold as an unfinished shell.The 12,940 sf shell offers 4 parking spaces and included a build out floor plan by Richard McGrew. The design would offer 6 bedrooms, 6 baths, 3 half baths and a steam room.Or the buyer can hire their own Architect.We have seen this shell and the views will be hard to beat.The penthouse was listed for $4.5M and sold for $4.25M after 264 days on the market.
ONE Queensridge Place Building 1, Unit 1201 was listed for $2.475M. It sold for $2.36M after 223 days on the market.The residence features 5 bedrooms and 6 baths with all the great amenities of ONE Queensridge Place.
Third Place Tie -
9209 Las Manaitas #401 was in Summerlin's Mira Villa condominium community. Listed for $1.775M, it sold for $1.575M after 83 days on the market.It featured 4 beds, 4 baths, parking for 4 cars and private spa in 3902 sf.The fourth floor residence offered beautiful views of the Strip, Golf Course and Mountains.At $404/sf it edges out the home in the Ridges for third most expensive sold in January.
63 Panorama Crest is in the Topaz Ridge enclave of the Ridges.This single story home was built in 2002 with 4013 sf.Listed for $1.749M it sold for $1.575M after 64 days on the market.The single story home offered 4 bedrooms, 4.5 baths with a casita and parking for 4.It included a private pool/spa and views of the Mountain, City and golf course.It closed at $392/sf.
Search Las Vegas Homes For Sale