Real Estate News: Las Vegas - Homes Sold in July 2015
Posted by Debbie Drummond on Friday, August 7, 2015 at 1:05 AM
By Debbie Drummond / August 7, 2015
Comment
Homes For Sale in Las Vegas and Henderson
Looking for a home in Las Vegas or Henderson? Today you have 7408 single family homes available. Condos and townhomes present another 2432 options. That's a very slight increase over last month when we had 7273 single family homes. It's only slightly higher than the 7131 single family homes listed last year.
Homes SOLD in July 2015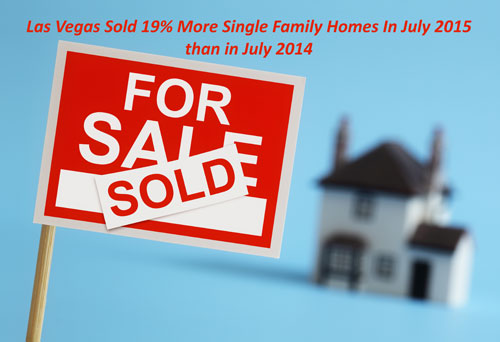 July was another good month for Las Vegas Real Estate. We sold 3045 single family homes. Condos, townhomes and high rise condos added another 624 transactions. A total of 3669 homes changes hands in July. That's an increase of more than a hundred from the 3560 sold in June. It's a 14% increase from the 3212 homes sold in July 2014.
If you compare the single family homes sold, the jump is even more remarkable. In July 2014 we only sold 2551 single family homes. Last month's 3045 represents a 19% increase year over year. Condos, townhomes and high rise properties are slightly lower. 624 this year compared to 661 last year.
Distress Sales in Las Vegas
The number of underwater homes continues to decline. Only 262 of the homes that sold last month were short sales. 284 of the homes sold were foreclosures. Distress sales made up 14.9% (546) of the homes sold. Not as low as we would like but an improvement over the 20.8% in July 2014.
There are currently 338 foreclosed homes listed for sale. There are 963 homes listed as short sales. Distress sales account for 13.2% of the homes for sale. An improvement over the 20.8% market share a year ago.
Financing
Buyers paid cash for 27.25% of the homes sold last month. Down from 29.45% in June and 35.6% in July 2014. Conventional mortgages were used in 35.5% of the deals. FHA and VA loans financed another 35.6% of the homes that sold in July. The cash investors have definitely pulled back.
How Quick Are Homes Selling?
The best homes don't stay on the market long. Fifty one percent of the homes that sold in July were on the market for 30 days or less. If we stretch it out to 45 days, 61.5% of the homes had gone into contract. At 60 days, 69.3% of the homes that sold had gone into contract.
Listed your home and didn't get showings? Been on the market 45 to 60 days without a reasonable offer? Time to look at price reductions and your home's condition. Don't forget that your agent needs to use high quality photos in the MLS to show your home at its best.
The only part of our market where homes are taking longer to sell is the high rise market and luxury homes. Even in those segments, we still see the best properties at the best prices selling quick.
Compared to Last Year:
We have 3.4% more homes for sale this year - 9518 homes for sale last year and 9840 homes now
We're selling more homes - 19% more single family homes and 14% more homes of all types yr/yr
Fewer Distress sales - 7.6% fewer distress sales listed than we had last year
Sold in 30 Days or Less - 51.2% of the homes sold in July 2014 and 51% of the homes sold in July 2015
Cash deals dropped from 35.6% in July 2014 to 27.25% this year
Median Price - Rose to $218,000 in July. Up 9% over July 2014 when Median price was $200K
Luxury Homes in Las Vegas and Henderson
Luxury home buyers now have 455 options that are priced at $1 Million or more. This includes 364 single family homes and 91 luxury condos. That's a dip from the 471 listed last month but higher than the 431 listed this time last year. We sold 3 luxury condos and 29 single family homes in July. The luxury home market currently favors buyers with a 16.5 month supply of inventory.
Top 3 Luxury Home Deals in July
For the first time this year, the top prices paid were all below $3 Million. Three single family homes sold in the $2M plus price range. The top high rise condo that sold was at ONE Queensridge Place. The second floor residence closed for $1.75M.
1513 Foothills Village in MacDonald Highlands was the most expensive home sold in July. The 6494 sf home offered 4 beds, 7 baths and parking for 10 vehicles. The home was situated on a 27,878 sf lot. Listed for $2.69M it closed at $2,761,714 or $425/sf. That's a lower price per square foot than the second place deal. This home sold as an "Owner Will Carry".
Two homes in the Ridges of Summerlin tied for the second place spot. Both closed at $2.55M. The second place goes to the smaller home which went for a higher price per square foot. On a price per square foot basis, that one would be in first place.
18 Drifting Shadow Built in 2013. It featured 4 beds, 6 baths with parking for 3 in 4231 sf. The home was situated on an 11,326 sf lot. Listed for $2.75M it closed for $2.55M or $603/sf. Purchased with cash and sold the first day on the market.
70 Hawk Ridge Built in 2009. It offered 4 bedrooms, 5 baths with parking for 4 in 5856 sf. This one was on a 15,246 sf lot. Listed for $2.6M it sold for $2.55M. Sold price was $435/sf. Purchased with cash and on the market 60 days before going into contract. We represented the buyers of this home.