Real Estate News: Las Vegas - Homes Sold in June 2015
Posted by Debbie Drummond on Thursday, July 9, 2015 at 3:47 PM
By Debbie Drummond / July 9, 2015
Comment
Homes For Sale
Home buyers in Las Vegas and Henderson have 7273 single family homes available today. Condos, townhomes and high rise condos add another 2422 choices. A total of 9695 homes for sale without accepted offers. Not much of a change from last month when we had 9637 homes for sale. Still below February's high of just over 9800 homes for sale.
Homes Sold in June 2015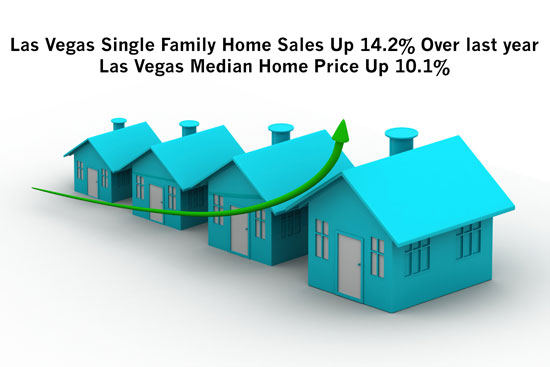 We sold 2933 single family homes in June. Condos, townhomes and high rise properties totaled 627 closed escrows. Overall, there were 3560 homes sold in June. This includes Las Vegas, Henderson and North Las Vegas. It doesn't include Boulder City, Blue Diamond and any outlying areas.
The June closings were higher than the last two months. In May we had 3256 and in April 3269 closed escrows. In June 2014 we sold 3275 homes in the Greater Las Vegas MLS. This month's jump is an 8.7% increase over the same month last year for all home types. The largest part of the increase was in single family homes which jumped 14.2% over last year. Condos and townhomes are up 6.3%.
Distress Sales in Las Vegas
Short sales were involved in 244 of the homes that sold in June. Foreclosures accounted for 269 of the homes sold. A total of 513 of the homes sold in June were distress sales. That's down to 14.4% of the homes sold in June. A drop of 1.1% over May and 3.2% from June 2014.
We have 309 foreclosed homes listed for sale. Short sales add another 394 distress listings. We have a total of 703 (7.3%) distress sales in the current MLS. That's a big drop over 17.6% over the market in July 2014.
Financing
We're still seeing a large number of cash buyers in the market. In June, 1011 (28.4%) of the homes sold to cash buyers. That's a steady decline from 29.45% in May 2015 and 34.7% in June 2014. Conventional mortgages were used in 1197 (33.6%) of the closings. FHA and VA financing was used in 1281 (35.9%) of the homes sold.
Homes Sold in 30 Days or Less
Homes that show well and are priced to sell are going quick. Out of the homes that sold in June, 1751 (49.2%) sold in 30 days or less. If we look at homes sold in 45 days or less, there were 2153 (60.5%). Selling your home and not getting showings? You should be looking for the problem. Most often, the homes that are sitting on the market are over-priced. Sometimes the home isn't showing well. Sometimes it's the photos used.
Buyers are out looking at homes for sale in Las Vegas. Price it right and get it sold. There is one segment of the market where this isn't necessarily the case. Luxury homes and high rise condos are taking longer. Although, even in that market, the most desirable homes sell fast.
Median Prices Compared to Last Year
The median price of a single family home is now $220K. That's 10.1% higher than the $199,900 from a year ago. It's a steady appreciation from $211,250 last month and $200K in January of this year.
Las Vegas Luxury Homes
If you're in the market for a luxury home, we have 471 properties priced at $1 Million plus. That's the same number that were available in June. It includes 377 single family homes and 94 luxury condos. We sold 31 luxury homes and 8 high rise condos priced at $1 Million plus in June. That's the highest number of luxury homes sold in any month of 2015. In May we sold 21 single family homes and 7 high rise condos. In June 2014 we sold 25 single family homes and 11 high rise condos at more than $1 Million.
Luxury homes and high rise condos is still a segment of our market that favors buyers. Over the past year, we've averaged 28.2 million dollar plus homes each month. The current inventory of million dollar homes for sale would last 16.7 months if no new homes came on the market. The luxury homes that are selling are in the most desirable locations. They tend to be newer. Contemporary, modern homes fetch the highest prices. This is a good market for luxury home buyers who don't mind picking up an older home and giving it a facelift.
Top 3 Luxury Homes Sold in June
Nine of the luxury homes and high rise properties that sold closed $2 Million or more. Three of the estate homes sold for more than $3 Million. The top three deals this month were all single family homes.
42 Olympia Hills Cr in the Estates at Southern Highlands listed for $4.47M and sold for $3,999,999. This home was built in 2006. It offered 6965 sf of living space with 4 bedrooms, 7 baths. It was on the market 36 days when it closed escrow on June 8th. It featured golf, mountain and Strip views.
8 Golden Sunray in the Ridges of Summerlin listed at $3,499,900 and sold for $3,750,000. This single story home offered 8766 sf of living space with 4 beds and 6 baths. This one was built in 2005 and situated on an over-sized 32,234 sf lot. It was only on the market 3 days when it closed on June 26. This contemporary home featured mountain views.
618 St. Croix St. in MacDonald Highlands listed for $3.499M and sold for $3.2M. This single story home was built in 2014. It offered 6782 sf of living space with 4 bedrooms and 5 baths. It was listed for 75 days when it sold on June 3rd. This contemporary home was LEED certified. It featured golf and Mountain views.