Real Estate News: Las Vegas - What Sold in December 2014
Posted by Debbie Drummond on Thursday, January 8, 2015 at 4:54 PM
By Debbie Drummond / January 8, 2015
Comment
Las Vegas Homes For Sale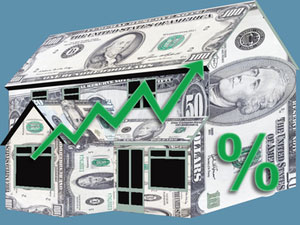 We've started 2015 with 7436 single family homes listed for sale in the Las Vegas and Henderson area. We have an additional 2385 condos, high rise condos and townhomes listed. The total of 9821 homes for sale is a slight drop from the 10511 that was available in early December. In early November we had 10702 options available. We were at 10530 in early October. At this same time in 2014 we only had 9316 homes listed for sale.
Now that the holidays have passed, we should see more homes being listed for sale. We are starting to see the usual studies about what to expect for the real estate market in 2015. The days of worrying about an on-slaught of foreclosures seem to be fading. National Association of Realtors Research predicts 2015 National home sales will increase by 7%. They're basing this prediction on a stronger economy, more jobs and rising home prices.
Realtors responding to a National survey feel confident that prices will appreciate in 2015. The median appreciation predicted Nationally is 3%. Nevada is expected to do better than that with higher than 3% to 4.2% expected. For the sake of home owners who purchased at the peak of the market (2006-2008), we hope to see a robust appreciation. Homeowners who bought in those years still tend to be under water.
Which Homes Sold in December 2014
We sold 2160 single family homes in December. Another 509 condos, high rise condos and townhomes brought the total to 2669. A slight jump from the low of 2421 sold in November. That was only slightly fewer sales in December 2014 than the 2787 we sold in December 2013.
Distress Sales in December 2014
Short sales were involved in 266 of the homes that closed escrow in December. That's 9.9% of the closings. Foreclosures accounted for 205 of the deals in December. That's 7.6% of the homes sold. A total of 17.5% of the homes sold in December were distress sales of some sort. That's a huge and welcome improvement over the 29.5% of distress sales that closed in December 2013.
Financing
Financing will play a role in the 2015 Housing Market. We're starting with interest rates hovering around 3.87% on a 30 year fixed rate. In early 2014 they were at 4.5%. It is widely expected that interest rates will increase by the end of 2015. Rising interest rates and prices that are likely to rise are reasons to buy sooner rather than later. Although rates are likely to rise, there is good news for FHA borrowers.
Only 915 of the homes that sold in December were purchased with cash. That's 34% of the homes sold last month. Conventional mortgages were used in 33% of the purchases. FHA and VA mortgages were used in 30.7% of the escrows.
How Quick Are Homes Selling?
Out of the 2669 homes that sold last month, 1107 were on the market 30 days or less. That's 41% of the homes that sold. This is a lower number than it has been all year. The market still favors sellers for single family homes but the home has to be priced right and show well.
Compared to Last Year
We have just over 500 more homes listed for sale than we did early last year. That's not a significant difference for a City this size. We sold 118 fewer homes than we did in December 2013. In all of 2014 we sold 34,501 homes through the Greater Las Vegas MLS. On average that was 2875 homes sold per month. If we continue selling at that pace, today's inventory would only last 3.4 months. That is still a seller's market.
Las Vegas Luxury Homes For Sale
We have 397 homes listed for sale with a list price of at least $1 Million. That includes 313 single family homes and 84 luxury high rise condos. We sold 20 single family homes and 6 high rise condos for more than $1 Million in December. We sold a total of 295 homes for $1 Million or more in all of 2014. At that rate of sales, we currently have a sixteen month supply of luxury homes listed for sale. This is the one area of the Las Vegas market that is still favoring buyers.
The median price continues to stabilize and/or improve. In December it edged up to $204K. A 1% increase over November and 10.3% over the $185K median from December 2013.
Top 3 Luxury Homes Sold in December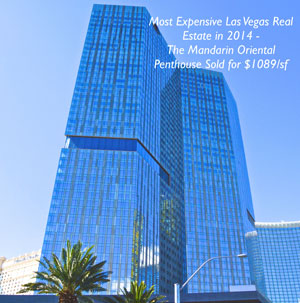 5142 Scenic Ridge Dr in Spanish Hills was the most expensive home sold in December. This new construction home offered 6
bedrooms with 8 baths in 9824 sf of living space. It was listed for $4.15M and closed for $3.95M with only 37 days on the market.
1508 View Field Ct. in MacDonald Highlands was the second most expensive home sold. It featured 4 beds, 7 baths in 7524 sf of living space. The home was listed for $3.45M when it sold for $3.15M after 77 days on the market.
Penthouse 4305 at Mandarin Oriental was the third highest priced sale. The 2755 sf luxury high rise condo has 2 bedrooms and 3 baths. It was listed for $3.2M and sold for $2.9M after 100 days on the market. This one sold for $1053/sf. Most expensive price per square foot in December.
The Las Vegas Real Estate Market Update is a monthly report. Register on our website to make sure you don't miss our updates and other real estate news.