Real Estate News: Las Vegas - March 2014
Posted by Debbie Drummond on Saturday, March 8, 2014 at 3:50 AM
By Debbie Drummond / March 8, 2014
Comment
It's official. Las Vegas has had a record warm Winter. Average high was 52.3 degrees with a high of 81 on February 16. The coldest day was December 10 where we stayed at 26 degrees. After the brutal Winter much of the rest of the Country has survived, it's no wonder that Las Vegas made Penske Moving Companies list of top 10 places people are moving.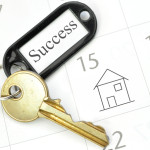 In other real estate news, the Wall Street Journal has noticed an uptick in the Las Vegas luxury home market. As WSJ observed, we have seen an increase in California buyers thanks to Prop 30's tax increases. Our prices are still a bargain compared to CA and NY.
Homes For Sale - We now have 6465 Single Family Homes listed for sale without offers. Condos, town homes and high rise condos add another 2301 options for a total of 8766 homes available. Current listings include 1351 short sales and 628 foreclosures. The rest are traditional sales.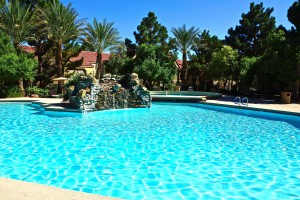 Sold in February - 1954 Single Family homes closed escrow in February. Another 504 condos, town homes and high rise properties sold during the month. Total transactions through the MLS came to 2458. This is a similar sales volume to January.
Short sales only accounted for 348 of the February closings. 274 of the homes sold were foreclosures. Over the past several months, we've seen a steady decline in the number of distress sales. At a total of 622 distress sales out of 2458 closings, distress sales still account for 25% of the Las Vegas market. This is an improvement over recent years. In a healthier market, only 5% of the homes available would be distress sales.
Financing - Cash sales accounted for 1154 of the homes sold. That's down to 47% of the transactions. A growing number of homes sold with a mortgage. This is a strong indicator that investors are cutting back. FHA, VA and Homepath financing backed 560 of the homes sold in February. Conventional loans funded 693 of the home purchases.
Active Days on Market - Of the homes that SOLD in February, 1059 (43%) were listed for 30 days or less. We're seeing a large number of homes going into contract in 15 days or less. 780 homes that sold in February were active less than 15 days.
The median price of the homes that sold in 15 days or less was $232K. The majority (691 or 90%) of the quick selling homes were less than $300K. Four luxury homes priced at more than $1M sold in less than 15 days. Two were single family homes in Summerlin. In Eagle Hills, 1909 Redbird listed for $1.69M and sold for $1.675M after 4 days on the market. In the Ridges, 8 Panorama Crest listed for $1.495M and sold for $1.3M after 9 days on the market. Two were high rise condos, one at ONE Queensridge and one at the Mandarin.
This is a good sellers market for those who price it right. For tips on how you can sell your home quick for the best price, read our recent blog "Selling Your Home in 30 Days or Less".
Luxury Homes for Sale -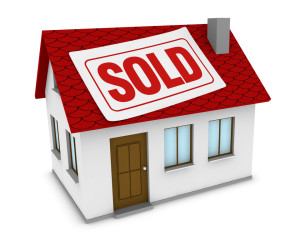 We have 294 single family homes and 76 high rise condos listed for more than $1 Million. In February, we sold 13 single family homes and 8 high rise condos with list prices of $1 Million or more.
Top Three Deals in February closed between $2.3M and $2.85M. Two of the three were in Summerlin.
Top 3 deals in February:
The Ridges of Summerlin - 23 Skybird Ct. List price $3,499,900. SOLD Price $2,855,000. This home featured golf course frontage on Bear's Best with 7241 sf of living space. It had 4 beds/6 baths/3 car garage with pool and space on a 20,473 sf lot. Built in 2009, listed for 240 days before going into contract.
6990 S Pecos Rd. listed for $6.9M when it went to Auction with "no reserves". Final sales price was $2.825M. This was an equestrian property with 11534 sf of living space, 7 beds/12 baths, pool, spa and parking for 55 vehicles. It was on 3.5 acres in the 89120 zip code.
Tournament Hills - 8808 Greensboro listed for $2.45M. It sold for $2.3M. This home had 6340 sf of living space. It offered 4 beds/6 baths/3 car garage and built in 2001 on a 16,988 sf lot. It went into contract after 305 days on the market.
Las Vegas Real Estate Update - March 2014
Summary: We have 8766 homes listed for sale in the MLS. If we sold 2458 homes every month and no new homes came on the market, we would be out of homes in 3.5 months. The National Association of Realtors looks at a six month supply of homes for sale as a "balanced" market. More than that is considered a buyer's market, less is a seller's market. This could change if we see a huge number of homes come on the market this Spring. Otherwise, we expect this to continue as a seller's market throughout 2014.
There are still great deals, but buyers should act when they see the home they want. Otherwise, someone else is likely to pick it up. This is certain to happen if the price is right. If you're sitting on the fence about whether you should buy now or wait, we suggest now. Sellers may have an upside if they wait. Rising interest rates and more competition from other sellers could make selling now a better option.
Las Vegas was #9 on Forbes Magazine's list of places to invest in 2014. The magazine gives Las Vegas a 58% growth forecast over the next 3 years. That would bring us back to where we were at the peak of the market. It also fits what we're seeing in the market with continued low inventory of homes for sale.