Real Estate News: Las Vegas - What Sold in March 2015
Posted by Debbie Drummond on Monday, April 6, 2015 at 7:10 PM
By Debbie Drummond / April 6, 2015
Comment
Las Vegas Homes For Sale
Las Vegas is seeing the effects of Spring Fever in the real estate market. Stop by any new home sales center and you'll find lots of potential buyers out looking at the options. What we aren't seeing is a sizeable increase in the number of homes listed for sale.
As of today, we have 7206 single family homes. The MLS shows an additional 2508 condos, townhomes and high rise properties listed for sale. Buyers have a total of 9714 options available. That's slightly less than the 9805 listings when we did our March update.
Homes Sold in March 2015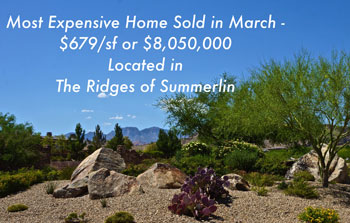 We sold 2615 single family homes in March. Condos, townhomes and high rise condos added another 647 for a total of 3262 closings. That's a nice increase over the 2374 homes that sold in February. Granted, February was a short month with a couple of National holidays. Still, a jump of 888 homes sold bodes well for the Spring market. It's a nice increase over the 3007 homes sold in March 2014, especially since prices are higher than a year ago.
If you continued to close 3262 homes per month, we'd be back at 3 months of inventory. Over the past year, we've averaged 2881 homes sold per month. That brings us to 3.4 months of inventory. Less than six months of inventory - this is still a market that favors sellers.
Distress Sales in March
Short sales were involved in 274 of the homes that sold in March. Up from 226 in February and down from 392 last March. Foreclosures were involved in 301 of the homes that sold in March. That's less than the 322 last March but up from the 227 in February.
Of the homes that are currently listed for sale, 887 of them are listed as short sales. Foreclosures account for 413 of the homes for sale today.
Financing
Interest rates are still lingering at low prices but buyers continue to pay cash in many of our deals. Thirty-two per cent (1063) of the homes that closed in March were purchased with cash. That's down from 37.8% in February and 43% of the homes sold in March 2014. Conventional mortgages financed 1072 of the homes that sold. FHA and VA mortgages were involved in 1054 of the closings. Cash investors are pulling back while traditional buyers are returning to the market.
How Fast Are Homes Selling?
We're still seeing the best homes sell quick. 1454 of the homes that sold in March were on the market 30 days or less. That's 45% of the homes sold. 62% of the homes sold in 60 days or less. Thinking of selling your home? Read "Beat The Competition and Sell Your Home in Spring".
Las Vegas Luxury Homes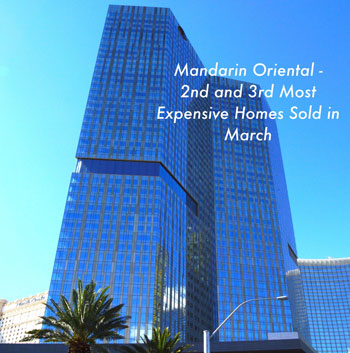 Las Vegas luxury homes offer a larger selection than last month. We now have 368 single family homes and 93 high rise properties listed for sale at $1 Million plus. If we continued selling 34 of them each month, we'd have 13.5 months worth of inventory. That still favors buyers in the luxury home market.
The luxury home market continues to improve. 27 single family homes and 7 high rise condos sold for $1Million or more in March. That's an imrovement over 29 in March of last year. Eight of the most expensive homes sold came in at more than $2Million.
The most expensive luxury home sold was 19 Flying Cloud in the Ridges of Summerlin. The home featured 5 bedrooms, 9 baths in 12,445 sf. The contemporary home was situated on just under an acre of land. The home closed for $679/sf.
Second and third place went to The Mandarin Oriental. Residence 3904 closed for $5.4M and 4303 closed for $3.8M.