Real Estate News: Las Vegas - What Sold in May 2015
Posted by Debbie Drummond on Wednesday, June 10, 2015 at 9:28 PM
By Debbie Drummond / June 10, 2015
Comment
Las Vegas Home buyers have 7240 single family homes, plus 2397 condos, townhomes and high rise condos to choose from. There are 9637 homes available for today's buyer in the Las Vegas MLS. This is slightly lower than it was over the past few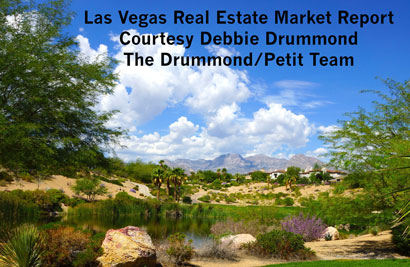 months. In May we had 9751. In February, we had a high of 9805.
Homes Sold in May 2015
We sold 2652 single family homes plus 604 condos, townhomes and high rise condos. A total of 3256 resale homes closed escrow in May. That's consistent with the sales volume we've seen the last several months. Last month we sold 3269 resale homes through the MLS. In March it was 3262 homes sold. In May 2014 we sold 3371 properties through the Greater Las Vegas MLS. Feel free to search current listings here.
Over the past year, we've sold 2909 homes per month on average. At that rate of sales, the current inventory of homes would last for 3.31 months. Less than 6 months is considered a seller's market. We are still in a seller's market, although some sectors, such as high rise condos still favor buyers.
Distress Sales in Las Vegas
The homes that sold in May included 241 short sales. Foreclosures were involved in 265 of the homes that sold in May. A total of 506, or 15.5% of the homes that sold in May were distressed sales.
We find 386 foreclosures included in the listings that are available today. Short sales are involved in 970 of the current listings. Together 14.07% of the current listings are distress sales. Much better than 18.4% in June 2014.
Financing
Buyers used cash to pay for 959 of the homes that sold in May (29.45%). That's the lowest number of homes sold with cash that we've seen in a couple of years. Conventional mortgages paid for 1060 of the purchases (32.6%). FHA and VA loans were used in 1178 of the deals (36.2%). The number of FHA/VA loans used is the highest we've had in recent years. This is a healthy sign for the Las Vegas housing market. Seeing more of FHA/VA loans is a sign that our market is attracting more first time buyers and primary home owners.
How Long Does it Take to Sell A Home?
Not long in this market. Homes that show well with good prices are getting snapped up. Fifty per cent (1625) of the homes sold in May were in contract with less than 30 days on the market. If your home has been on the market for more than a month, with no offers, you should take a serious look at the price and condition. The one exception is the high rise market where the average days on market is still in the 119 range.
Median Prices & Year Over Year
The median price for May increased to $211,250. That's 8.3% over the median price of $195K in May 2014. The low inventory of homes listed for sale should see prices continue to increase.
Las Vegas Luxury Homes
Buyers who are looking for a Las Vegas Luxury Home have 471 choices priced at $1 Million plus. This includes 89 luxurious penthouse homes. We sold 21 single family homes and 7 high rise condos priced at $1 Million plus in May. Six of the top deals were more than $2 Million. The top three deals were all over $3 Million.
This high end segment of Las Vegas real estate is still an area where the market favors buyers who don't mind doing a little updating. Over the past year, we've sold an average of 27.6 homes priced at $1 Million plus. The current inventory would last 17 months if no new homes came on the market. In spite of this slant towards buyers, newer, contemporary homes are in demand. There is also a shortage of them. Contemporary/modern homes sell quick and close to list price.
Top Three Luxury Homes Sold in May
The most expensive home that sold in May was penthouse 4606 at The Mandarin Oriental. This 3922 sf residence offered 3 bedrooms and 4 baths with views of the Bellagio fountains. Listed for $4.75M and sold for $3.875M on 5/20/15 after 64 days on the market.
3 Golden Sunray in the Ridges of Summerlin was the most expensive single family home sold. It was second most expensive property sold in May. The 7715 sf single story home was located in Promontory Ridge. Built in 2006, it offered 3 bedrooms, 6 baths and a 3 car garage. The over-sized three quarter acre lot with double fairway frontage was another plus for this home.
The Mandarin Oriental claimed the third place spot with Penthouse 4505. This one was the 2755 sf plan with dual masters, two and a half baths and North Strip views. Listed for $3.4M and Sold for $3.4M after only 18 days on the market.
Rounding out our $2 Million plus homes -