Things to Do in Las Vegas
Posted by Debbie Drummond on Friday, April 2, 2021 at 10:39 AM
By Debbie Drummond / April 2, 2021
Comment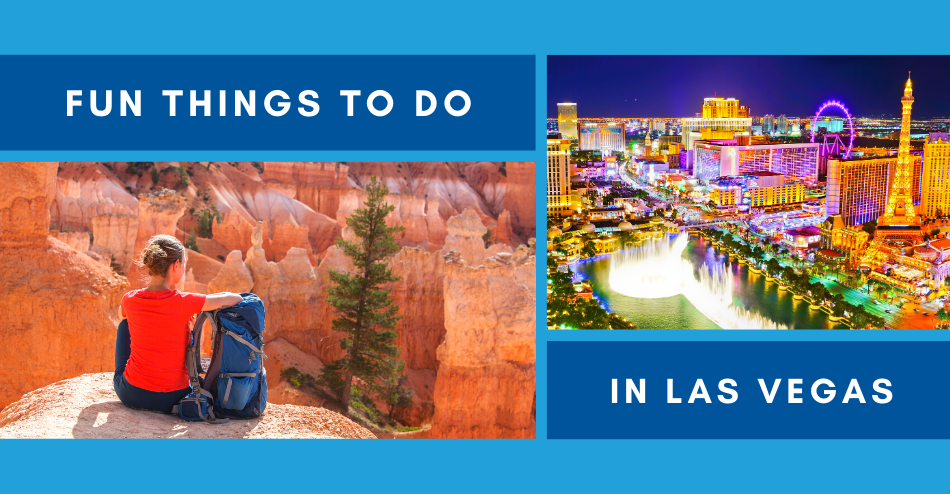 When it comes to glitz, glitter, and glamour, Las Vegas ranks at the top of the list. From exciting live onstage performances and a variety of casinos and gaming action to shopping, dining, and around-town adventures, Las Vegas offers nonstop entertainment. Whether you are in Las Vegas for a memorable vacation, a weekend getaway, or you're planning to move to the Entertainment Capital of the World, there's never a lack of opportunities for new experiences. Here are some of the most popular things to do in Las Vegas.
Las Vegas Outdoor Adventures
All the bright lights and music that lures people indoors aren't the only happenings going on in Las Vegas. There are copious outdoor activities to enjoy in the city, too! With the temperatures ranging from 38 °F to 105 °F throughout the year, this may be a chosen destination for those living in colder areas and want to get away and enjoy warmer weather outdoors. Below are a few ways to enjoy the desert weather in this western state.
Parks
Parks in Las Vegas
Red Rock Canyon National Conservation Area
Tule Springs Fossil Beds National Monument
Lake Las Vegas Marina
River Mountains Loop Trail
Spring Mountains National Recreation Area
Humboldt-Toiyabe National Forest
Nevada is home to four National Parks and 23 state parks, with the Old Las Vegas Mormon Fort being local to the Vegas area. This historic state park is the first permanent, non-native settlement in the Las Vegas Valley. The remains of an adobe fort built by Mormon missionaries along a spring-fed creek in 1855 are featured at this park, with the only free-flowing water for miles around. Located in what is now downtown Las Vegas, the Old Las Vegas Mormon Fort is an interesting sight to see for some history of the area, as well as ancient artifacts.
If an old historic site of ruins isn't exactly what someone is after, there are some other outdoor parks in the Vegas area that they may find more interesting. Floyd Lamb Park is one such park that offers 680 acres of wildlife, vegetation, and lakes. This traditional working ranch offers visitors the opportunity to learn about early Las Vegas lifestyles, as well as bike trails for BMX and mountain bike riders.
Additionally, Vegas has over 10 dog parks, including Barkin' Basin Park, Children's Memorial Park, and Woofter Park. There are many other parks available to visit, as well as reservable parks for any events.
Water Recreation
Water Recreation in Las Vegas
Las Vegas Kayak Tours
Wet'n'Wild Las Vegas
Las Vegas Water Sports
Western River Expeditions Grand Canyon
People may not realize it since Las Vegas is in the desert, but there are still bodies of water to enjoy some water recreation activities outdoors as well. With Las Vegas Kayak Tours, people can explore some beautiful places like the Emerald Cave, Hoover Dam, and Lake Mead. The Emerald Cave is within an hour of the city of Las Vegas and has some gorgeous canyons to explore within the lake.
Maybe the outdoor water activity one chooses to partake in doesn't involve nature. Vegas has plenty of these activities available for people to choose from, too! Wet'n'Wild Las Vegas offers eight water slides and two pools, including one lazy river for some relaxation.
Hiking & Biking Trails
Hiking and Biking Trails in Las Vegas
Calico Tanks Trail
Lone Mountain Trailhead
Mesa Trailhead
Pecos-McLeod Trailhead
Perhaps hiking and biking are more of the outdoor activities one is looking to do, and Vegas has plenty of these opportunities to offer, too. Red Rock Canyon National Conservation is another marvelous outdoor space that is a wonder to see in person, visited by over two million people each year. The beautiful, vast canyons and red rocks are wonderful to admire on foot or on a bike. The Calico Tanks hike within Red Rock Canyon spans 2.2 miles over sandstone and leads to a hidden water pocket, offering a great view of Las Vegas.
All in all, those who wish to enjoy the great outdoors while in Las Vegas, Nevada, are sure to find something that will interest them. Whether they want to visit one of the many parks, enjoy some water (even in the desert!) or embark on a fun hike or biking trail, Vegas has something outdoors for everyone.
Las Vegas Shopping
Las Vegas Shopping Centers
Grand Canal Shoppes
The Shops at Crystals
Fashion Show
Las Vegas North Premium Outlets
Boulevard Mall
Vegas has a vast selection of shopping options available to choose from, allowing people to shop in well-known or small shops for whatever they are looking for.
Fashion Show, a popular shopping mall on the Vegas Strip, boasts over 200 stores. Ranging from Alex and Ani to Crocs to Express to Louis Vuitton, there is sure to be something available for anyone, no matter their budget.
Those looking for great deals can visit the Las Vegas Premium Outlets, a luxury outlet mall with almost 200 of the top premium luxury and designer brands available at more affordable prices. With brands such as Marc Jacobs, Dolce & Gabbana, Versace, and Armani, people may get just the deal they are looking for.
Located in The Venetian right on the strip, Grand Canal Shoppes offers an outdoor-looking setting indoors. With over 160 stores and a quarter-mile long shopping area, the Grand Canal Shoppes are easily accessible for anyone staying close to the Las Vegas Strip.
Las Vegas Restaurants
Restaurants in Las Vegas
Flock Fowl
CRAFTkitchen
The Black Sheep
Honey Salt
Carson Kitchen
The Capital Grille
Las Vegas was rated as one of the top ten locations for foodies. With over 100 restaurants featured on Food Network, people are sure to find what they're craving in this city. The Bazaar by Jose Andres located in The Sahara describes itself as a "steakhouse, redefined." This restaurant created by a Michelin-starred chef has two private dining rooms and includes, a raw bar as well as food cooked over a fire pit.
For dining adventures earlier in the day, eat downtown Las Vegas is a newer breakfast and lunch spot by a professional chef with over 20 years of experience, Natalie Young. On the corner of Carson and 7th Street, this restaurant serves some tasteful dishes such as chilaquiles, pancakes, and huevos motulenos.
Those looking for a dining experience unlike any other may want to go out of the box and try BLACKOUT Dining in the Dark, voted "Best in Las Vegas". This sensory dining experience makes you eat in pitch-black darkness, which is designed to arouse your palate and heighten your senses. All light-emitting objects such as cell phones, lighters, and watches are taken before you arrive at your table to enjoy eating at this unique restaurant.
Las Vegas Sports Venues
Sports Teams in Las Vegas
Vegas Rollers
Vegas Golden Knights
Las Vegas Thunder
Las Vegas Rattlers
Las Vegas Mobsters
Las Vegas Aviators
Las Vegas offers a lot of excitement and game play for sports enthusiasts with multiple professional teams calling the city home. Fans can watch plenty of strategic moves when the Las Vegas Aces women's professional basketball team take to the court at Mandalay Bay Events Center. More court action takes place at the Orleans Arena with Vegas Rollers Professional Tennis.
At the T-Mobile Arena, the Vegas Golden Knights professional hockey team keep a fast pace when the players glide onto the ice showing off their cool moves and skating techniques. At Cashman Field, the Lights professional soccer team keep fans engaged and entertained, and fans will never strike out watching the Aviators minor league baseball team at the Las Vegas Ballpark. If you're ready for some football, make your way to Allegiant Stadium to watch the Las Vegas Raiders professional NFL team.
For individual game time, Las Vegas has numerous scenic golf courses and golf course homes, which include public, private, and club facilities. Several to consider for tee time are the Las Vegas Golf Club, Highland Falls Golf Club, and the Painted Desert Golf Club. Each course is well-maintained and creatively designed for a challenging game. Some featured amenities include a pro shop, practice facility, golf instruction, memberships, restaurant, lounge, online store, tournaments, and special events.
Las Vegas Arts & Culture
Those interested in educating themselves about some finer cultural places and activities while admiring the arts in the process have options to discover in Las Vegas.
Museums
Museums in Las Vegas
The Mob Museum
Zak Bagans' The Haunted Museum
Natural History Museum
The Neon Museum
People may not know that there is a museum in Las Vegas dedicated to mob culture. The Mob Museum is the National Museum of Organized Crime & Law Enforcement. Showcasing news from the birth of the mob until today, this museum's mission is "to advance the public understanding of organized crime's history and impact on American society."
Located in downtown Las Vegas, Zak Bagans' The Haunted Museum was voted #1 "Best Haunted Destination in America" in 2020 by USA Today. Offering Flashlight Ghost Tours and an 11,000-square-foot property built in 1938, this museum is open Thursday through Monday for all who dare to visit.
History buffs will enjoy Las Vegas' Natural History Museum, which opened its doors in 1991 and offers tours and private events. Additionally, guests can view various exhibits that may be available for a limited time, like Treasures of Egypt and a Prehistoric Life Gallery.
Art Galleries
Art Galleries in Las Vegas
Marjorie Barrick Museum of Art
Metropolitan Gallery
Centaur Art Galleries
Art aficionados will love Metropolitan Gallery Art Museum. With art auctions, private exhibitions, and live entertainment, this museum offers over 17,000 square feet of art exhibition space in downtown Las Vegas. Another art gallery people should consider visiting is the Marjorie Barrick Museum of Art, which has free admission and displays many exhibitions and collections.
Dance & Theatre
Dance and Theatre in Las Vegas
Las Vegas Little Theatre
Vegas Theatre Company
The Smith Center
Another artistic endeavor that many want to experience is the dance and theater scene in Vegas. Though there are many large-scale shows available to see, some smaller theater companies such as Las Vegas Little Theatre and Vegas Theatre Company are great community theaters that offer amazing shows available to the public. The Smith Center, a non-profit, has been called the "Heart of the Arts" for Southern Nevada for almost a decade.
Las Vegas Nightlife
Bars, Clubs, and Music in Las Vegas
The Golden Tiki
XS Nightclub
Artifice
The nightlife in Las Vegas is one of the best in the United States, if not in the world. With countless nightclubs, bars, concert venues, and music festivals to attend in Las Vegas, the nightlife in this city is unlike any other. People can dance the night away in any of the clubs or hotel and casino bars and nightclubs, as well as attend a concert for any type of music that they prefer.
Popular and luxurious nightclubs include XS in the Wynn, Omnia in Caesars Palace, and Hakkasan in the MGM Grand. Popular music festivals like EDC, Life is Beautiful, and the iHeart Radio Music Festival also attract many visitors every year.
Discover All That Las Vegas Has to Offer!
Whatever your reason for visiting Las Vegas, make a checklist of the destinations you want to visit, activities to do, restaurants to enjoy, shows to see, and casinos to play. With access to many venues 24 hours a day, your itinerary is sure to be filled from morning to night. This vibrant city offers the ultimate experience of exploring a modern and upbeat city that pulses with excitement while offering cozy houses and condos you can go home to at the end of the day. Whether you are a vacationer interested in a good time or a potential resident looking for a futuristic city with the opportunity to live an exciting lifestyle, Las Vegas fits the bill.
If finding a Las Vegas home is on your list of things to do, contact Debbie Drummond at Simply Vegas Real Estate with The Las Vegas Luxury Home Pro at (702) 354-6900 and discover the ideal Las Vegas home for you today.