Le Thai on Fremont Street Lives Up To the Hype
Posted by Debbie Drummond on Wednesday, March 21, 2012 at 3:54 AM
By Debbie Drummond / March 21, 2012
Comment
Le Thai has been receiving a lot of publicity over the past several months as a hip, trendy place for the downtown crowd. I have to admit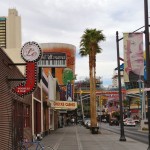 we were a little skeptical about the food but on our recent visit, they delivered on all counts. Starting with the location. While they're on Fremont Street, they're just East of the Fremont Street Experience, which means you can find metered parking around the corner and don't have to deal with the tourist crowds. Still close enough to go for a walk thru the Fremont Experience if you want to see the current video after dinner, but easy to get in and out if you're only going for Thai food.
We went for a late lunch with a friend who was visiting from Vancouver. I would suggest avoiding the lunch hour rush, because it's easy to understand how the space could get packed during the height of lunch or dinner.
The inside of the restaurant is a cozy space with a full bar and seats at the bar. In addition, you can see the kitchen behind a half wall of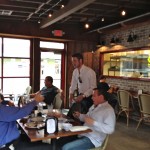 frosted windows. Dining space is available along the wall for those who like to watch the busy kitchen. It was a nice day so we picked the outdoor garden area. We started with the pork jerky appetizer but it was served with enough sticky rice that it could have easily been an entree. The sauce that was served with it was perfect for our tastes, but I would advise those who don't have an asbestos tongue to approach it with caution. For entrees, we were in a noodle mood. The waitress suggested we try the Pad See Ew which they prepare with wide rice noodles and a "dark" soy based sauce. We added chicken and shrimp and requested a heat level of 4 on a scale of 5. If you're not a fan of hot spicy, I would suggest a 2 or 3 for most but we loved it. The noodles were silky tender and the shrimp cooked just right with a spicy, pungent sauce.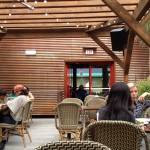 I had read mixed reviews about their Pad Thai but now that we've tried it, I have to think anyone who doesn't like this Pad Thai is used to an Americanized version. Again, we ordered ours with a heat level of 4. The spice was perfectly offset with the slight sour of the tamarind paste. One of the things I dislike Pad Thai that's too heavy with peanuts and this one was just right, only a sprinkling for a hint of flavor. We all agreed that Le Thai served the best Pad Thai we've ever had, including our old favorite in San Francisco.
We shared a bowl of the Meatball noodle soup. Again, a level four on the spice. It was delicious again with a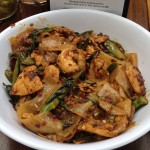 combo of lean beef and meatballs sliced in half. Topped with a generous portion of fresh green onions and thin rice noodles in the broth. Our friend tried the Pad Prik with beef off the lunch special menu. Again, it was prepared with nice lean but tender beef in an excellent red curry sauce over rice. If dining alone, one could have an excellent lunch out of the Meatball Noodle Soup or the Pad Prik, and at a good price. I'm sure the service can get a little rushed when they have every table full and a line waiting for their seats, but it was flawless for our late lunch.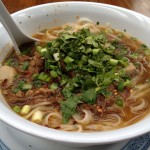 We obviously had ordered more food the we could eat. Our waitress who was very attentive insisted on taking the time to pack our soup with the noodles separate from the broth so the noodles didn't get soggy. Our Canadian friend was surprised to find such great Thai food in an off Strip location that was so reasonably priced. We are definitely putting Le Thai on Fremont Street on our list of favorites. When looking at their website, we found that it says "coming soon". I did find Le Thai on Facebook and would encourage "liking" them.