Low Ball Offers in Real Estate - Do They Ever Work?
Posted by Debbie Drummond on Saturday, August 16, 2014 at 10:37 PM
By Debbie Drummond / August 16, 2014
1 Comment
An agent in our office recently complained about receiving an offer that was $50K lower than the list price. His sellers wanted to counter back $50K higher than the list price. An equally ridiculous move. The agent wanted to call the buyer's agent and suggest splitting the difference.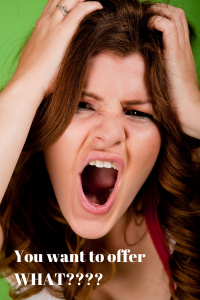 Buying or Selling a home is an emotional experience. The seller feels they have put improvements into the home and deserve a fair price. Presenting lowball offers may not be the best move if you love the home.
What Is a Low Ball Offer in a Real Estate Transaction?
Low ball offers are substantially lower than the list price. The only time a lowball offer is justified is when you're dealing with a home that is over-priced. As +Bill Gassett points out, there are "Harmful Effects to Over-Pricing".
Sellers who over-price their home invite lowball offers. Buyers may like the home but they will view your price as ridiculous. In turn, they will make a ridiculous offer.
As the old saying goes, "You get more bees with honey!" Keep this in mind when pricing your home and you won't have to worry about low ball offers.
Well priced homes generate more interest. They can create an auction environment where several buyers make offers. An over-priced home will sit on the market longer. Buyers will assume there is something wrong with the home as it lingers in the MLS with no offers. When a buyer finally makes an offer, they will use the days on market to justify a price that is much lower than the list price.
For homes that are priced to sell, offers that are 5% below list price are lowball. In our current Las Vegas market, we have only a 3 month supply of homes for sale. Over 50% of the homes that have been selling each month went into contract in less than 30 days.
Homes that are priced to sell may receive multiple offers. If you try offering 5% below list price on a home that's hot, you are wasting your time. Even worse, you may insult the sellers so that they won't even counter your offer. While you're waiting for the sellers to counter your ridiculous offer, they may be receiving better offers.
How Should Sellers Deal with a Low Ball Offer?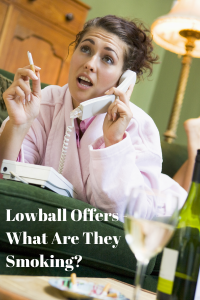 Lowball offers are annoying to any seller. There are still buyers who insist on them. The best advice we can give our sellers is not to be offended if we do receive a lowball offer. As a Realtor, we have to present all offers unless we have written instructions stating otherwise.
Several months ago, we received an offer for $290K on a $400K listing. The buyer's agent called me to confirm that I had received the offer just as I was reading it. I had to say, "Yes, I'm reading it now. What are you guys smoking?"
She assured me they were not smoking anything but the buyers were from a culture that "likes to negotiate". I repeated that to the sellers and they didn't get insulted. They countered at $395K. Several counters went back and forth. The "would be buyers" came to $365K including furnishings.
The sellers would not accept it $365K. They didn't have to. Another buyer sent an offer for $395K, including furnishings. The original buyer simply wasted everyone's time and lost their chance to own the home they loved. Of course, having an existing offer on the table may have encouraged the second buyer to come in with a strong offer :-)
Some buyers feel they have to "negotiate". It can be a waste of time to counter lowball offers or sometimes it can get the buyer to be realistic. They may have a figure in mind for what is the maximum they'll spend for the home and they're just seeing if they can get it for less. For those buyers, the only way to see if the number they have in mind is something acceptable to the seller is to stay calm and negotiate.
When dealing with a lowball offer, it's best to "Keep The Drama Out". Counter any offer if there is reason to believe it's a qualified buyer.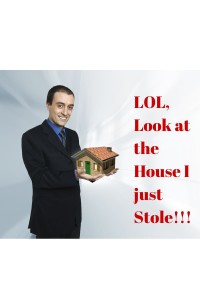 But don't take the price they're offering personally.
How Should Buyers Make Their Offer?
Start with the comps. Your Real Estate agent should be able to show you similar homes that are currently listed and that have sold recently. This should not include single story compared to two story. The homes should be similar in age. In other words, make sure you compare apples to apples.
Adjust values to account for upgrades like swimming pools. The general conditions of the homes should be considered. Look at the home's location. Does one of them back to a major street or have some other defect that would influence the home's value? Does the home have a view? Reviewing the comps should give your agent a good idea of where the home will appraise.
How does this value compare to the home's list price? If it is close, then you risk losing out on the home if you submit a lowball offer. If you are going to offer below the list price, your agent should submit the comparable homes you've used along with your offer. This may help the sellers understand that you're being logical rather than trying to "steal" their home.
If you are trying to negotiate for the lowest price, make the rest of your offer clean. Offer to close quick. In Las Vegas, the typical escrow closes within 30-45 days.
Cash deals can close in 1-2 weeks. A quick close appeals to sellers who have already moved and have a vacant home. If they still live in the home, they may prefer a longer close. Offering to accommodate the seller's needs can make a lower price easier to accept.
If you want to negotiate the rock bottom price, don't ask for closing costs and extensive repairs. Be prepared to do your inspections within a week of seller's acceptance. If price is your priority, it may be a smart move to pay for your own home warranty.
For tips on making a compelling offer, read "How To Make a Good Offer on a House".
Do LowBall Offers In Real Estate Work?
They usually don't. The lowball offers that succeed are usually accompanied by comps that support the lower price. The listing agent may use the comps to convince the seller the home is over-priced.
We've found them useful when there are several similar properties available. For example, you may find three or four high rise condos with the same floor plan and similar features in the same building. In that situation, making multiple lowball offers on 3 or 4 units may bring out the one seller who is ready to get rid of the home. It is important to specify that multiple offers are being made and the offer may be withdrawn at any time.
We discourage lowball offers on short sale properties. Desperate sellers may list a home at an unbelievable price. If they accept an offer for the low price, there is no guarantee the bank will accept it. The bank involved is going to evaluate the home's current market value. If the price is too low, they will counter or reject the deal. Read "Does a Buyer's Offering Price on a Short Sale Really Matter?" for more info on short sales.
If you insist on making lowball offers, you should be patient. It may take a lot of offers before you buy your home. This can be an expensive process if prices are going up while you're throwing out unrealistic bids.
Price appreciation isn't the only concern in Real Estate. The weeks that you spend "negotiating" can allow interest rates to increase. The money you might save by hammering down the lowest price could be wiped out by a rate hike.
Other suggested reading: