The Best Places to Buy Mid-Century Modern Furniture in the Las Vegas Area
Posted by Debbie Drummond on Sunday, July 18, 2021 at 10:01 AM
By Debbie Drummond / July 18, 2021
Comment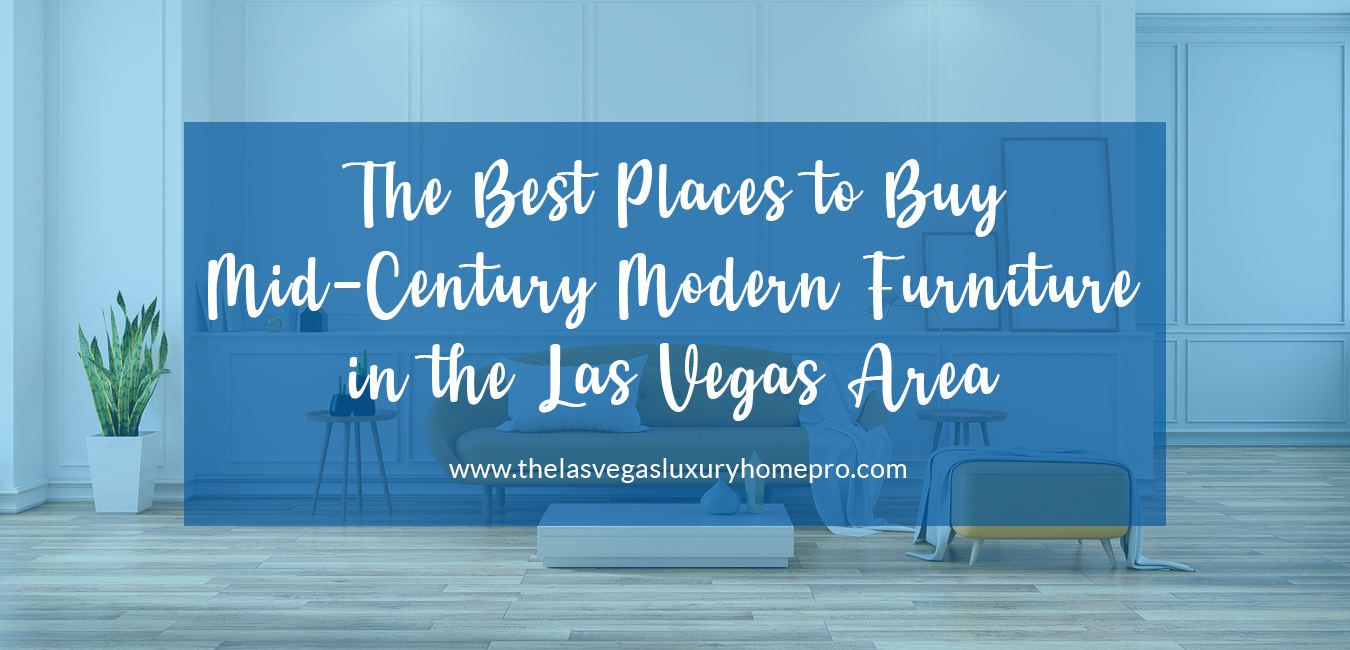 With its massive hotels, resorts, entertainment venues and world-class attractions, it may seem that Las Vegas is all glitz and glamour. When you take a closer look, though, there's much more to enjoy about Las Vegas, including some of its off-the-strip shopping opportunities. If you're looking for a great place to buy Mid-Century Modern furniture in the Las Vegas area, we've got you covered.
Timeless in its design, Mid-Century Modern furniture is pretty easy to spot if you know what to look for. It's often distinguished by gentle curves and clean lines. Many people seek out Mid-Century Modern furnishings to complement their current décor, or to complete a look they've been designing for years. And luckily for fans of Mid-Century Modern design, it's just as popular today as it was several decades ago, which means options and opportunities to find the perfect Mid-Century Modern piece are abundant all over the Las Vegas area.
Retro Vegas
1131 S Main St, Las Vegas, NV 89104 | Website
Retro Vegas claims to be full of Mid-Century Modern furnishings and accessories, plus vintage lighting and art, too. Located in the Las Vegas Arts District, Retro Vegas has an ever-changing inventory because they're always taking in new pieces. Choose from cool sofas, mid-mod chairs or other pieces to complete your Mid-Century Modern furniture vision.
Mid Mod Crisis
1126 S Main St, Las Vegas, NV 89104 | Website
Mid Mod Crisis has two locations to choose from in Downtown Las Vegas. The store specializes in Mid-Century and Danish Modern furniture and accessories. Mid Mod Crisis sells things like chairs, dressers, tables, lighting and even room dividers.
Former Modern
3200 Polaris Ave Suite 37, Las Vegas, NV 89102 | Website
Former Modern sells tables, desks, sofas and chairs in a Mid-Century Modern design. You can order and have your furniture shipped right to your house or pick it up yourself. Located on Polaris Avenue, the store buys single furniture pieces and entire estate furnishings.
Modern Mantiques
1300 S Main St #120, Las Vegas, NV 89104 | Website
You'll find a bit of everything at Modern Mantiques. This antiques and collectibles store is also located in the Downtown Arts District. It's the place to find vintage posters, artwork, memorabilia and more. You'll also find some Mid-Century Modern furniture at Modern Mantiques, but keep in mind items in the store are always changing. The store buys, sells and consigns antiques in Las Vegas and the surrounding region.
Cornerstone Furniture
M, 3111 S Valley View Blvd UNIT 106, Las Vegas, NV 89102 | Website
You can also try your luck by taking your search to Cornerstone Furniture on Valley View Boulevard. The store offers some options for Mid-Century Modern style, including a minimalist table that fits right in with the trend. The store also sells some sofas, chairs and more in a similar type of style and design.
West Elm
1770 Festival Plaza Dr Suite 120, Las Vegas, NV 89135 | Website
It's not unique to Las Vegas, but West Elm is another good choice if you're searching for Mid-Century Modern furniture. West Elm sells new furniture pieces, some of which come in the same style as Mid-Mod. While they may be new items at West Elm, they're often still full of vintage style points and charm.
InStyle Furniture Superstore
2189 W Craig Rd UNIT 101, North Las Vegas, NV 89032 | Website
InStyle Furniture Superstore sits on Craig Road in Las Vegas. Open every day of the week, the store offers a little bit of everything to its customers, including some furniture with Mid-Century Modern style points. Look for chairs, tables and even some sofas in the style you're searching for at InStyle Furniture Superstore.