Most Affordable Neighborhoods in Las Vegas
Posted by Debbie Drummond on Tuesday, February 2, 2021 at 11:51 AM
By Debbie Drummond / February 2, 2021
Comment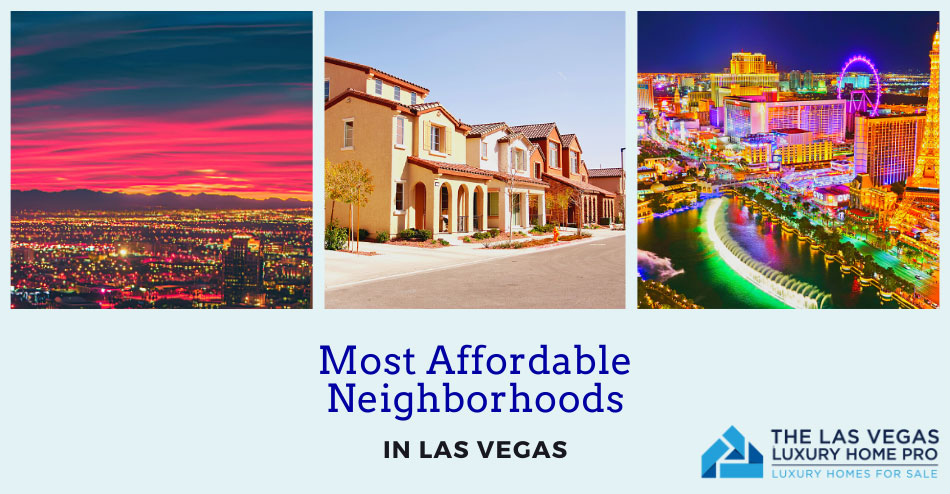 Glitz, glamour, shopping, jobs, and affordable real estate are all available within a short commute of Las Vegas. While many people think of Las Vegas as merely a tourist destination with 24-hour entertainment and excitement, there are over 2 million people that call the suburban area around Las Vegas home. Because of the high cost of living, however, many neighborhoods are more expensive compared to other cities. Fortunately, just as there are many reasons people choose to live in Las Vegas, and there is a variety of affordable neighborhoods to choose from when moving to the city. Here's a list of some of Las Vegas' most affordable neighborhoods.
Centennial Hills
Centennial Hills Amenities
Near Red Rock Canyon
Midsize Homes
Community dating back to 2005
About half an hour from the Strip to the northwest of downtown Las Vegas is Centennial Hills, a dog-friendly community with sidewalks and well-lit streets. Centennial Hills ranked sixth in the Las Vegas area overall for livability and is considered one of the fastest-growing areas in the Las Vegas valley. This neighborhood has access to most everything you would need within a relatively small area. There are grocery stores, restaurants, cafés, a hospital, nightlife, shopping, outdoor recreation, entertainment venues, gyms, and a variety of schools. In 2017, there were 357 new business licenses issued in Centennial Hills.
Homes in Centennial Hills are priced anywhere from $130,000 to over $3 million, but the median home price in this area is $267,0000. There is at least one master-planned community in Centennial Hills called Skye Canyon. Developers in Skye Canyon are now selling the second phase of new construction homes. These homes range in size from just over 1,700 square feet to almost 3,500 square feet and range in price from $400,000 to the low $600,000s. If renting a home is more desirable, there are places to rent between $925 to $3,600 per month.
Centennial Hills' location and the variety of housing options make it a popular location to live in. This community also has a reputation for having an unparalleled holiday spirit, whether it be Halloween, Easter, or the 4th of July, there is something for everyone in Centennial Hills.
Centennial Hills Hotspots
The Lakes
The Lakes Amenities
Near Spring Mountains
Near Red Rock Canyon
Planned Community
Canyon Gate Country Club is Nearby
The Lakes is a master-planned community in Spring Valley near Summerlin. It is west of Las Vegas and comprises an area of a mere two square miles. The showpiece of the community is the 30-acre Lake Sahara. This area got its start in the mid-1980s, and there are homes in nearly every shape and size, from apartments and condos to opulent lakefront abodes. The Lakes is secluded from downtown Las Vegas and the Strip, containing a mixture of gated communities, commercial areas, and offices. The Lakes somewhat feels like a desert oasis with its wide street and mature pine trees but is still only 15-20 minutes from The Strip and 10 minutes from Summerlin.
The Lakes is often one of the highest-ranked neighborhoods in Las Vegas. A home in this neighborhood will cost around $305,000, and the median income is nearly $70,000. There are 15 miles of bike paths, fishing, restaurants, and businesses. Most people who live in The Lakes use a car to get around, but the area is considered fairly walkable and bikeable.
Huntridge District
Huntridge District Amenities
Huntridge Circle Park
Historic Huntridge Theater
Near the Vegas Strip
Nightlife Nearby
Quality Restaurants Nearby
The Huntridge District is a historic district located in what is considered "old" Las Vegas. Huntridge District is a quick 10-minute drive from the Strip and is located along the Maryland Parkway to the south of downtown. The Huntridge Theater is located here. This iconic modern building designed by S. Charles opened in 1944 during World War II. The theater is not currently open for business but is on the National Register of Historic Places. The building was purchased by an investor in 2019 with plans for rehabilitation and revitalization.
The Huntridge District is home to 16,115 people. The area is described as dog-friendly and somewhat walkable. Positive aspects of the community include ample parking and well-manicured lawns. The median home price in the Huntridge District is $103,271, while the median income is $41,038. Rent in the Huntridge District will cost between $800-$1,800 per month. Overall, the Huntridge District is highly ranked in terms of amenities, and affordability.
Huntridge District Hotspots
Desert Shores
Desert Shores Amenities
Lake Jacqueline
Lakefront Homes With Private Docks
Four Man-Made Lakes
Lagoon-Style Swimming Pool
Picnic Park with Sports Facilities
2100 sq. ft. Clubhouse
Desert Shores is another master-planned community that is located to the northwest of downtown Las Vegas. There are 3,351 housing units located in Desert Shores. This community was developed in 1988 and comprises 22 different residential districts with names like Sage Pointe, Biscayne Bay, Discovery Bay, Beachport, Tradewinds, and others.
Desert Shores takes up 682 acres of land. Within that area, there are four man-made lakes, a lagoon swimming pool, a beach area, volleyball courts, basketball courts, and a playground. Residents and guests can fish in the lake provided that they release the fish. Additionally, boats are allowed on the lakes as long as they are registered and insured, do not have gasoline motors, and are not moored to the sides of the lakes or anchored to the bottom of the lakes. Desert Shores also offers community docks, a clubhouse, and multiple walking trails.
The homes in Desert Shores were primarily built between the late 1980s through the 1990s. In Desert Shores, there are housing options of all sizes and price ranges, from condos to custom lakefront homes. The lakefront homes all come with the availability to construct a private dock. The larger homes in Desert Shores are located in the gated areas of Ritz Cove and Diamond Bay. The median home price in Desert Shores is $332,500 while the median income is $61,355.
There is a member-controlled homeowner's association in Desert Shores. The majority of the 17,179 people who live in Desert Shores rank the area high on affordability and amenities. Desert Shores feels less urban than other areas in part because there are no traffic lights, only stop signs.
Affordability Without Sacrifice
It is easy to see why so many people decide to live in Las Vegas. There is a variety of neighborhood types, each having attributes that attract residents. Within a short drive of the downtown area, there are master-planned communities, traditional unincorporated towns, and small cities. Whether you are searching for a multi-million dollar luxury home in a gated community or a one-bedroom apartment to rent in an urban area, there is something for everyone within the greater Las Vegas area. If you're looking to make your home in one of Las Vegas' many affordable neighborhoods, contact Debbie Drummond at Simply Vegas Real Estate with The Las Vegas Luxury Home Pro at (702) 354-6900 to get started discovering the ideal Las Vegas home for you.