Mt. Charleston Ski Resort Provides Change of Scenery
Posted by Debbie Drummond on Thursday, March 22, 2012 at 3:44 AM
By Debbie Drummond / March 22, 2012
Comment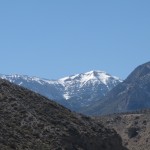 Mount Charleston Ski Resort is a nice little day trip for those of us who live in Vegas. From the airport/Strip it's about a 45 minute drive. From the Northwest part of town it's only 20 minutes. Amazing what a difference 20 minutes and a few thousand feet in elevation can make. We decided to take a drive up yesterday so our dogs could play in the snow that had been dumped on the mountain over last week-end. It was 70 degrees on our car's thermometer when we left Vegas, at Mt. Charleston it was sunny and 50 degrees. And, yes, there was snow. It was beginning to melt and you could get sprinkled if you walked under a building or tree but perfect weather for snow. Didn't even need our jackets.
According to Wikipedia, Las Vegas is 2030 feet above sea level. Once you cut off the 95 Fwy onto Kyle Canyon road and begin your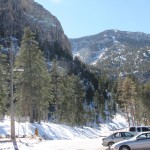 ascent up to the mountain, you will notice the incline. About halfway there, is a 5000 foot marker. The scenery at this point is still Joshua trees and desert when you look to the East towards Las Vegas. Just past this marker, as you look towards the mountain, the landscape begins changing rapidly to small trees and grass. Mount Charleston lies in the Northern tip of the Spring Mountain Recreation Area. In addition to the ski resort, it offers hiking paths, camping facilities, and a small village with homes. There is lodging at the Mount Charleston Resort as well as the Lodge at Mt. Charleston. The resort is more of a typical motel with three floors, a restaurant and lounge. The lodge has a restaurant and rustic cabins for guests to rent. In warmer weather, they also allow you to dine on the patio with your furred friends. The Lodge sits at 7700 feet above ocean level and the very tip of the mountain is at just over 11000 feet above sea level. It's not unusual to see a bit of snow on the peak as late as May or June.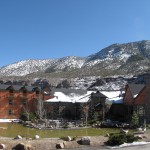 You will find a library and fire station on the drive up. There are homes down the hill and around the opposite hill from the Lodge. This first became popular during the years when the Hoover Dam was being built. Workers would send their wives and kids to camp on the mountain so they could escape the desert heat and the workers would join them on the week-ends. It's still a small village with only the hotel and lodge with their restaurants and the ski slope for business. Otherwise, it is strictly a place for relaxing.