Nittaya's Secret Kitchen Brings Great Thai Food to Summerlin
Posted by Debbie Drummond on Friday, April 27, 2012 at 3:09 AM
By Debbie Drummond / April 27, 2012
Comment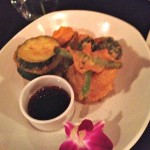 Nittaya's Secret Kitchen is actually across the street from Summerlin, but it brings great Thai food to Summerlin restaurants. In a nondescript Strip mall/Office plaza at Lake Mead and Rampart, this wonderful little restaurant could easily be over-looked by those who don't expect to find gourmet in the midst of the branch of a bank and office buildings. We are really happy that we discovered Nittaya's Secret Kitchen.
It's a small, cozy restaurant with the sort of comfy, upscale leather chairs at the tables that we frequently see in the contemporary high rise condos or model homes for some of the single family homebuilders. With a brick facade behind the bar, the coziness of the room and the excellent service, we felt more like we were dining in a restaurant in San Francisco or New York than Vegas.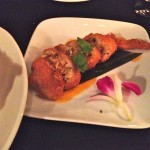 Yes, the ambience was the perfect setting but it would not have mattered if the food didn't live up to the setting. We stopped in on a Thursday night, which is the wine night at Nittaya's. Bottles are half priced. Even on a normal evening, their wine list is not badly priced. We chose a WhiteHall Chardonnay for starters since we had spotted the Firecrackers Prawns as the first little appetizer that we had to try. The Firecracker Prawns were served on skewers in a slice of pineapple. They were large, perfectly breaded and delicious. Those were followed by the Angel wings. I'm not usually a wing fan but these were delicious. Wings that had been deboned, stuffed with a mixture of ground chicken with glass noodles and Thai spices took him "straight to heaven", as he said. These were some of the best wings we've ever had, hands down. Even tonight the hubs was asking about them...and sorry, but as good as I am at deciphering recipes, I cannot do those wings. Of course, why would I since it's easy to get them so close by?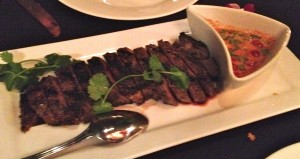 For entrees, we were curious about the Crying Tiger Steak. After questioning our attentive server about it, we were convinced that we had to give it a try. It was one of the best steaks we've been served in a restaurant lately. Good quality sirloin that was perfectly grilled with just the right amount of smokiness in the seasoned, seared crust of the steak. In fact, I had to tease my partner about how perfectly grilled this steak was. Yes, seared on the outside, seasoned, smoky and a nice medium rare that left pink but not fleshy on the inside. And the sauce that was served with it was to die for. The waitress was nice enough to bring us an extra little portion of the sauce to bring home.
Have to admit, we've fallen in love with Le Thai on Fremont Street for Thai food, but Nittaya's rivals it. Nittaya's is a different atmosphere, more elegant and not as over the top on the spicy burn barometer, but with a solid blend of spices and balance of flavors that will leave you wanting more. Nittaya's rivals any restaurant in town for good quality ingredients with just the right spices and great service in a comfortable atmosphere. We would give Nittaya's a 5 star rating and we will be back with other friends and clients.