Nora's Cuisine for Real Italian Pasta and Pizza
Posted by Debbie Drummond on Tuesday, July 24, 2012 at 3:00 AM
By Debbie Drummond / July 24, 2012
Comment
Nora's Cuisine on West Flamingo at Jones offers the sort of neighborhood atmosphere with great food that we don't find on every street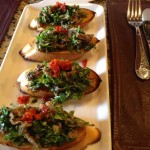 corner in Vegas. From the minute you walk into Nora's Cuisine and smell the garlic, you know this is not one of those Americanized Italian restaurants. The stack of pizza boxes waiting to be filled in the kitchen area make it obvious that they sell a lot of pizzas. And we have loved their pie when we've had it, but they're much more than a pizza parlor.
The restaurant opened in 1991. It is a family owned business. Gino & Nora Mauro opened with only 12 seats. Over the years they've expanded and now their three sons are active in the business. You can pick from a quieter dining area on the left side of the kitchen. Or, a turn to the right and you can dine in the bar which has won acclaim as one of the most popular bars in Las Vegas. In the bar, you'll be greeted with addictive, home made potato chips that are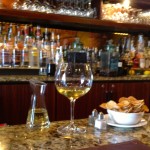 placed around the bar. Careful not to get too carried away with them because the first order of their freshly baked garlic bread is on the house and it will also leave you wanting more. They have a full bar plus a good selection of wines by the glass at reasonable prices (especially for Vegas). You can also order wine by the bottle. Expect to find a good selection of nice Italian wines at reasonable prices here. In addition to the pizza, we love their antipasto.
Spaghetti with Meatball[/caption] Nora's Cuisine is known for classic Italian food, including Veal or Chicken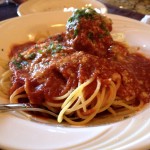 Milanese or our favorite lunch special "Spaghetti & Meatball" which is currently on their menu for only $5.50, making it the best lunch deal in town. Their meatballs are light and large enough that one is plenty for lunch. The sauce is like your Italian Nona would have made it. In addition to our old favorites, we see them adding new items like the Steak Bruschetta we tried recently. Just thinking about the great food at Nora's Cuisine makes us hungry!