Open Houses, Good Idea or Bad?
Posted by Debbie Drummond on Wednesday, November 14, 2012 at 3:00 AM
By Debbie Drummond / November 14, 2012
Comment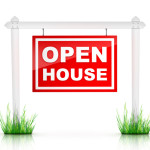 In the internet age, we really have to asks ourselves if Open Houses are a good idea or a bad idea? Sellers will frequently ask how many open houses we plan to do for them.
We'll do them if you want us to, but I would not allow one to be held in my home. I actually did allow agents to hold open houses in a Santa Monica home many years ago. We had listed with a husband/wife team and took the normal precautions of making sure all jewelry and small items that could easily walk away were secured. It never occurred to us that someone would be so brazen as to walk off with an expensive jacket. In hindsight, we should have locked our closets.
That was 20 years ago. Even with a handful of agents to over-see an open house, things can and do walk away. I have bought and sold my own homes since then, but will not allow an open house. And, in the internet age, they aren't as necessary as pre-internet. Our MLS allows us to upload 35 photos. We can do virtual tours and videos. Bottomline, if you're allowing an agent to hold an open house, you're allowing them to invite un-screened, un-qualified buyers to take a look at your home and possessions.
In this day and age, even vacant homes can be subject to thieves who steal fixtures and/or copper. For home buyers, going from one open house to another is a great way to waste time and gas. Many of the homes you'll go see during an open house won't fit your criteria, not as many bedrooms/bathrooms or not in your price range.
Going to open houses will allow you to meet the agents who hold them. Again, with the internet age, it is much easier to narrow down the current listings that meet your needs if you work with an agent who can search the MLS for you. What most agents won't tell you about open houses is the person who tends to benefit from an Open House is the agent who holds it. They can meet the neighbors who might be getting ready to sell and they can meet potential buyer clients who haven't found an agent to work with.