Open Houses in Real Estate
Posted by Debbie Drummond on Thursday, April 14, 2016 at 9:38 AM
By Debbie Drummond / April 14, 2016
Comment
Should You Allow a Real Estate Open House?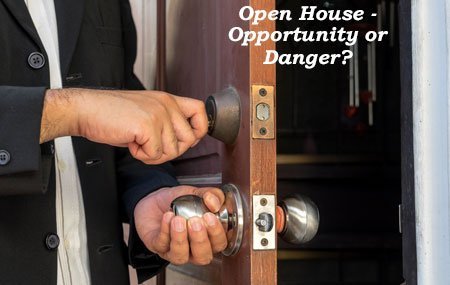 Spring is here. Trees are getting their leaves back and flowers are beginning to bloom. Maybe you've finished the Spring cleaning on your home. Why not put a sign up and invite the neighborhood to stop in for a look at the place? Sort of a one home block party?
Seriously? No one is going to just open their home up for the neighborhood to stop in. Your neighbors might be nosey but harmless. What about the strangers driving down the street who decide to drop in?
Under normal circumstances you would never just open the doors to your home and let whoever passed by come inside. Yet homeowners do it all the time when selling their home. Open houses are one of the biggest fallacies in real estate. Before allowing one at your home, carefully consider the pros and cons.
Do Real Estate Open House Work?
They may have been useful before the internet. Now that listings are so easy to view online, serious buyers are not wasting their time looking for open house signs. Fewer than 2-3% of the homes sold each year were sold through an open house. Before you insist that your Realtor hold an open house, give some consideration to the risk involved.
Risks Involved When Holding an Open House
The most harmless risk is your neighbors will stop in to spy on your home. Maybe they've always wanted to see how you decorated. Maybe they're thinking about selling and want to see how your home compares to theirs.
The neighbors are the least of your concerns about an open house. Many articles have been written about Realtor safety. Realtors are advised not to hold an open house by themselves. There have been cases where Realtors were attacked while holding an open house.
Housing Wire published an article with ten steps for Realtors to protect themselves after one tragedy. The tips they give in the article may be useful, but you have to wonder. If Realtors have to be concerned about their safety, do you really want them holding an open house at your home?
One safety tip is to have guests sign a register. That's a good idea, especially if the agent wants to build their database. But how do you know they're going to sign in with their real names and contact info? From our experience many people will provide a fake name. This step does nothing to protect your home.
If you decide to allow an open house, the first thing you'll want to do is remove all jewelry and small valuables that are easy to slip in a pocket or purse. It's a good idea to put those items away even when the home is being shown by appointment.
After putting away the jewelry and valuables, check the medicine cabinets. Prescription drugs are another popular item that can easily be pocketed.
You can't stop there. In 1992, before I had a real estate license, my husband and I listed our home in Santa Monica, CA. We hired a husband and wife team as our agents. They liked holding open houses, especially in our neighborhood. My stepson was thrilled when he heard that actress Darryl Hannah had stopped into our open house. She didn't buy the house. In spite of weekly open houses, the home didn't sell through one. In fact, the open houses didn't even get us an offer.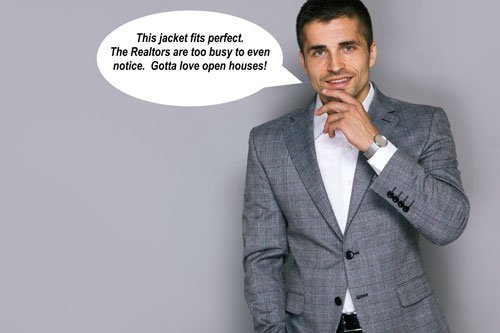 While we had put away all the valuables, it never occurred to us to lock the closets. A designer jacket I had just given my husband for his birthday was missing the day after an open house. I had paid $900 for it on Rodeo Drive. He had worn it once. Didn't even send it to the cleaners.
When we mentioned the missing jacket to our Realtors, they remembered there was one guy who seemed odd. They had tried to follow him when he went upstairs but some other folks came in. Needless to say, that was the last open house we allowed. If you insist on having an open house, it isn't a bad idea to lock the closets.
The risk of having things "walk off" during an open house isn't your only concern. Make sure all credit card receipts, personal financial information, etc., are locked away. Prying eyes could lead to identity theft.
Your Realtor will try to keep an eye on people but that can be difficult. A common trick the criminal element uses is having two couples come in at once. While one couple distracts the agent, the other couple checks to see what they can score.
Even if your agent sees someone putting something in their pocket, what can you expect them to do? If they confront the thief they could be putting their own life at risk. Unless your agent is an off duty cop, they aren't going to be effective at stopping the crook.
You have less to worry about when selling a vacant home. Personal items and jewelry have already been removed. Some thieves routinely check out vacant homes during an open house. They figure out the best ways to get in and out of the place. They decide if the appliances, AC and other fixtures are worthwhile. Then they come back.
Why Do You See So Many Open Houses?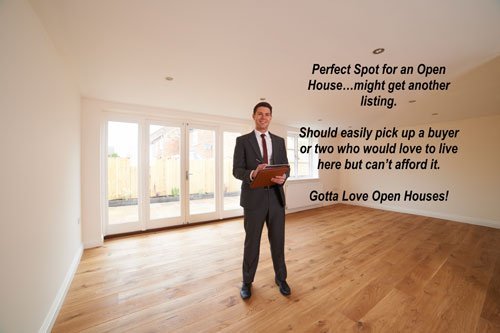 You may be wondering, if open houses or so risky and ineffective, why do we see so many of them? There are several reasons. First, sellers insist. Most remember when they bought their home twenty or thirty years ago. They went to open houses every Sunday. At least in the early phases of looking for a home. They forget that times have changed.
It creates an impression that the Realtors are "working". They can see the agent is showing up every week or so with their open house signs. They're bringing brochures to hand out. They're doing an outstanding job, right? Yes, they're putting forth an effort but is it the right effort? Are they spending just as much time making sure your home is presented well online? Are they making sure it's getting distributed on all the major search portals? Do they have a successful and highly visible website that features it? Those are the actions that have a much greater chance of getting your home sold than an open house.
Realtors go along with open houses because they realize it's a good way to find clients. Yes, they will get to meet your neighbors. Your neighbors will be impressed with the quality of brochures they're giving out. They may hire them to list their home. They often meet buyers who are just beginning to look at homes. These beginning buyers usually haven't started working with a Realtor.
Open houses are not likely to disappear as long as agents find them useful to promote themselves. Several years ago, the National Association of Realtors started a National Open House Week-end. It was held the week-end after tax day (April 15th). They discountinued the National event a couple of years ago. Low inventory was cited as one reason for discontinuing it.
An Article in Inman News stated:
Most respondents, 62.6 percent, said the primary purpose of the event was to promote Realtors and real estate professionals. Only about 1 in 5 said the event was intended to connect buyers and sellers.
There you have it. Open houses are more about promoting Realtors than getting your home sold. The only value we've found in holding an open house is to get feedback about the home's condition and price. Even then, you need to take the feedback with a grain of salt. The lookie-loos visiting open houses may not be as informed about home values as a serious buyer.
If you want to hold a big neighborhood block party, hold an open house. If you want to get your home sold, hire an expert listing agent who knows how to market online.