Panorama Towers Luxury Condo Sold for Record Price Per Square Foot
Posted by Debbie Drummond on Wednesday, December 11, 2013 at 2:44 AM
By Debbie Drummond / December 11, 2013
Comment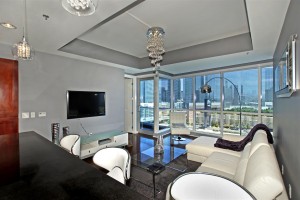 Panorama Towers is one of our most popular high rise properties. Over the past year, we have recorded 62 sales in the MLS at this location. The price per square foot varies considerably in this building. Units with Strip views and on higher floors, naturally fetch a higher price than those on lower floors and with Mountain views.
Only four units at Panorama have sold for more than $300 per square foot this year. In February, unit 3300 in Tower 1 closed at $2.3Million or a record $470/sf. This was a penthouse suite with 4894 sf of living space, 3 bedrooms, 3.5 baths plus den with tons of upgrades and incredible views. A more typical condo, unit 2900 in building 2 offered 2372 sf with 2 beds/2.5 baths. This one was an end unit that closed for $750K or $316/sf on 2/21/13.
For lower floors, unit 1205 in Tower 2 has set a new record price per square foot. We sold it for $309/sq ft ($375K) on 11/22/13.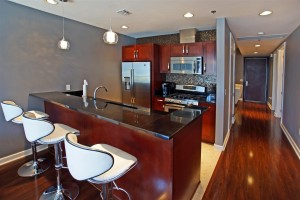 The sellers had originally paid $225K for the 2 bed/2 bath plus den condo with Strip views in 2011. They purchased it as a short sale with plain white walls and dingy carpet. They promptly hired local designer, Angeles Scorsetti of Scorsetti Design to transform the condo into a stylish second home. Custom paint and engineered wood floors provided the base for the look. Tile backsplash in the kitchen and bathrooms added color. Swarovski crystal chandeliers were added to the den and living room. Swarovski light fixtures were also added to the kitchen and bathrooms. The den was converted into an elegant bar with a custom wall that was handmade with velvet padding and Swarovski crystals. The furnishings were contemporary, comfortable and luxurious.
This was obviously not your typical condo at Panorama Towers. At the time we listed the condo on 7/25/13, another condo with a similar plan was available. Our closest competition was unit 2205 in Tower 1. While this condo wasn't as highly upgraded, it was nicely done and on a higher floor. Those sellers had paid $266,729 for that one back in April. They had cleaned it up and furnished it nicely. Unit 2205 was listed at $399K when our sellers were first considering where we should price their unit. The price on 2205 quickly dropped to $379K, $369K and finally $349K on 7/18. It went into contract on 8/5 and closed for $338,300 on 9/10/13.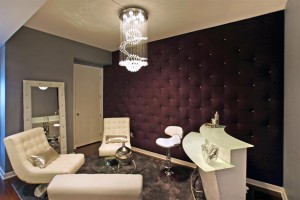 We went ahead and listed unit 1205 for $400K, unfurnished. Our sellers knew we were pricing high for the current market but we felt the upgrades deserved a better price. We also felt the high rise market was showing signs of improving with fewer distress sales and declining inventory.
We received offers fairly quickly. Unfortunately, the earlier offers were lower than the sellers would accept, although they did counter each offer. They loved the condo and did not need to sell. Their only motivation for selling was they had discovered they like Vegas and want to buy a larger home in a golf course community.
In November we finally got the right offer. The initial offer was lower than the seller's bottom line, but we negotiated. Buyers and sellers agreed to $375K for the condo without furnishings AND a separate bill of sale for the furnishings for $20K cash. Ironically, the day after we went into contract we received a back-up offer that was comparable. Our sellers enjoyed knowing that if the first buyer had trouble with their financing, we had a second buyer ready to go with cash.
Granted, this condo was highly upgraded but we like to think it was well marketed and well negotiated. We also see this as a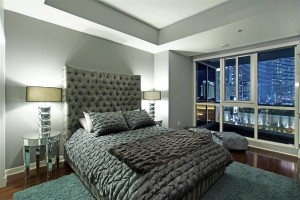 confirmation of our belief that the Las Vegas high rise market is improving. Only two other condos have sold for a higher price per square foot at Panorama Towers over the past year. This is the highest price paid over the past year for a condo below the 28th floor at Panorama Towers.
For units below the 20th floor the record for highest price per sq ft was $292/sf for #1012 in Tower 1. That condo was an end unit with both Strip and Mountain views. It offered 1406 sf with 2 beds and 2 baths. The condo sold for $410K on 10/9/13. Between the 20th and 28th floor, the highest price paid was unit 2007 which sold for $485K or $296/sf on 6/3/13.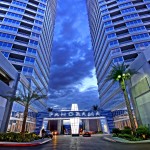 There are currently 35 luxury condos for sale at Panorama Towers. That's only a six month supply of inventory. Lowest price on the current listings is only $181/sf for unit 1806 in Tower 1. Unfortunately, this one doesn't have the Strip views, but what a bargain for 2347 sf at $424K. Lowest price for a Strip view unit is #503 in Tower 1. It features 2 beds/2 baths in 1084 sf for $238K or $220/sf. It's a low floor, but still has the view.
We've had over ten years experience as full time Realtors in the Las Vegas High Rise and Luxury Home market. If you're considering selling, we'll be happy to discuss how we can successfully market your property. If you're looking to buy, we'll help you get the best possible property for your needs at the best possible price. Call (702)354-6900 or email [email protected].