Queensridge Luxury Homes on Badlands Golf Course
Posted by Debbie Drummond on Tuesday, May 15, 2012 at 3:01 AM
By Debbie Drummond / May 15, 2012
Comment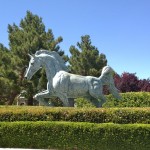 Queensridge is known for the beautiful sculptured horses you pass as you enter the community, but the beauty extends beyond the sculptures. It was originally designed to look like an English village with perfectly manicured pine trees, lots of green grass in the front lawns and median, beautiful pine trees and roses lining the streets.
Located on the Badlands golf course, there are two sections to Queensridge. The South side of the community is entered off Charleston with two of the sculptured horses, one on each side of the guard-gated entrance. In the Southern part of the community one finds a community pool, tennis courts and park like areas. The Northern side is entered off Alta and features tennis courts and parklike areas, but does not have the community pool. Beautiful Mountain views, golf views and Strip views are available in some locations within the gates.
Homes here include semi-customs that were constructed by Toll Brothers and Christopher homes. Even the semi-custom homes are on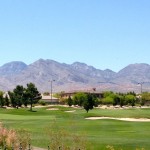 nice sized lots with room for pools. The custom homes are in a variety of styles. Some of them have the feel of a romantic cottage with vines and flowers while others are very traditional or contemporary and there are some homes here that could truly be considered mansions. In fact, the most expensive homes which have sold in this community have fetched prices of $12 and $14 million at the height of the market. More recently, just over $6 Million was one of the most expensive homes sold in the community. In fact, that sale was one of the most expensive homes sold within the past year in all of Las Vegas. As with any community in Vegas and perhaps the Country, we have seen REOs and short sales here, but they seem to be dwindling down in the current market.
Queensridge homeowners have an ideal location. Just outside the gates, the best shopping of Summerlin is within five
Views
minutes. Everything from clothing stores like the Gap, Banana Republic to Williams Sonoma and Pottery Barn are actually on the corner of Rampart and Charleston, inside the Queensridge master plan. On the other side of that street, one finds Boca Park with big stores like Target, Office Max, Vons, Total Wine and the local Lee's Liquor Chain. On the other corner, there's even a Whole Foods Market, Pier One and Barnes and Noble. In the mix off all those shopping areas are a variety of restaurants. Newer stores have opened in the Tivoli Village across the street from Boca Park on the North side. Dining in the area includes the major chains as well as a few of our favorite local, independents like Due Forni pizza, Petra Greek Taverna and the new Timbers in Boca Park.
Beautiful homes in the midst of it all. To see homes for sale in Queensridge, call (702)354-6900 or email [email protected].