Ranch Market in Chinatown for Exotic Produce and Seafood
Posted by Debbie Drummond on Saturday, August 4, 2012 at 3:19 AM
By Debbie Drummond / August 4, 2012
Comment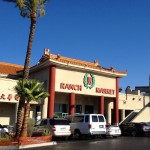 Ranch Market in Chinatown is one of our favorite grocery stores when we're in the mood to cook Asian food. Aside from the large selection of ingredients you need for cooking authentic Chinese, Thai and other Asian dishes, you'll find they carry a large selection of produce and seafood.
The produce includes items like fresh lychees, Chinese greens and root vegetables along with a large variety of fresh and dried mushrooms. Other items include coconuts, several varieties of cabbage, squash, you name it, and from our experience their prices are competitive to other markets in the area.
They have a large butcher shop which will do the special cuts of beef and pork needed in many Asian recipes. In their dry ingredients you'll find all the typical Asian sauces. While many of our markets carry a selection of soy, black bean, oyster and fish sauces, at Ranch market in Chinatown you'll find many different brands of all the standard sauces as well as the more unusual sauces. The same is true of the dried and fresh noodles needed for won tons and stir fries.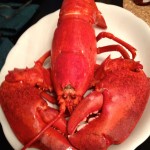 While their butcher shop offers quite a variety of cuts of meat, the seafood shop is the department that completely blows us away. They must have more than a dozen different varieties of whole fish in their display case. On a recent trip we find halibut steaks that were cheaper than Whole Foods Market by $10/lb. Fresh grouper steaks and a some Chilean Sea Bass that also beat Whole Foods prices while looking like they could rival them for freshness as well.
Our favorite item here are the tanks with live crabs and lobster. We've bought live lobsters and taken them home to the pot. They were delicious. Sizes range from smaller, 1.5 to some that look like they're 4 or 5 lbs. The ones we've tried tended to be in the 2-3 lb range. We've seen them at prices ranging from $7.99/lb for the larger sizes on a week-end when they were on sale to $8.99/lb for smaller sizes that week-end. Normal price seems to average $10.99/lb. Considering that the local Costco charges about $19/lb. for the Australian Lobster tails, we think we'll stick with Ranch Market in China town for those occasions when we feel like throwing a lobster in the pot.