Red Rock Conservation Area Appeals To Locals As Well as Tourists
Posted by Debbie Drummond on Thursday, September 6, 2012 at 3:00 AM
By Debbie Drummond / September 6, 2012
Comment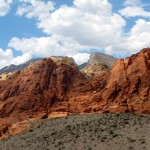 The Red Rock Conservation Area is popular among tourist who like to get off the beaten path of the luxury Hotels and Casinos on the Strip and head out to explore some of our natural desert. Located just a 20-30 minute drive West of the Strip and only five minutes West of Summerlin, it's also an area where you find locals going to explore hiking trails and rock climbing.
A loop takes you around the area in about 45 minutes. We like to visit Red Rock several times a year to explore the changing desert. On a recent visit, after the rains, we were surprised at how much green there was. With a desert that doesn't get much rain, when we do get it the changes in the landscape are noticeable.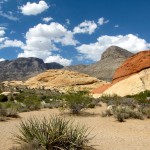 One of our favorite spots is the Willow Springs Picnic Area that's on the North West side of the loop. It's a nice place for a picnic but it also is home to a small creek. Maybe we're a little odd, but finding a water flowing in the creek in the middle of August gives us a thrill....
Don't be surprised if you encounter wildlife either. On different visits, we have seen a tortoise, wild burrows and even wild horses. As remote as this area is, when you stop by the High Point Overlook, you have an excellent view of Summerlin and the Station Casino that's named after the area. Click here to see homes near the Red Rock Conservation area.