Relocating to Las Vegas - How's The Weather?
Posted by Debbie Drummond on Sunday, January 29, 2012 at 3:33 AM
By Debbie Drummond / January 29, 2012
Comment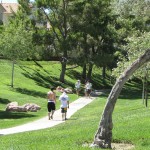 If you are relocating to Las Vegas one of your first questions is probably concerning the weather. When clients ask me about the weather, I know they're waiting to hear about how hot it gets. I'm probably not the best person to ask about the weather because lots of sunshine and warm weather is the reason I moved here from Northern California. Best answer I have for this question is the photo I took of folks enjoying our nice 103-104 degree weather last June. As you can see in the picture on the left, the Summer heat does not keep us from enjoying our parks and walking paths.
Even though I wanted those sunny, hot summers, I did prepare myself by moving here in December so I had a chance to acclimate. For anyone who is moving here from a colder climate, I highly encourage you to plan the move so that you arrive sometime after Labor Day and before April. That way, you will get to experience our nice Spring weather with pleasant days that average 67 degrees in April, working up to 77 degrees in May and 87 degrees in June, according to the National Weather Service Forecast Office. Of course, that same chart gives 98.7 degrees as the high in June and 104 degrees as the high in July. From my experience, those highs are typical but we usually get a week to ten days where the heat soars up to 110-115 degrees. I know that sounds incredibly hot, but there is no humidity. I would roughly equate 115 degrees of our dry heat to the low 90s in hot, humid Florida or Houston.
Las Vegas sunny, hot summers are my favorite time in the desert. The traffic seems to get a little lighter as snow birds to back to their cold climates. We don't have the mosquitos and gnats that I remember from other places where I've spent a few Summers. If the heat gets too much, just go inside to the AC or jump in a pool. Most of all, the summer nights here are lovely. They're the perfect temperature for inviting friends over to throw your favorite foods on the grill and dine outside. The desert sky is especially nice in the summer. The lack of clouds makes the stars even more vivid.
The bits of weather that do surprise people have to do more with the cold weather. Yes, we do get colder in the Winter than I would like.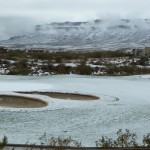 Out of the past 10 Winters, including this one, I have seen it snow at least once or twice except for a couple of years. Granted, this is not the kind of snow I remember from Detroit or New York. You will never have to go digging out the shovel. In fact, I frequently compare the snow we get in Las Vegas to a well behaved house guest. It shows up, looks really pretty for a few hours and then fades away before you can get tired of it.
The photo at the right is a good example. That's actually the Bear's Best golf course in the Ridges of Summerlin hiding underneath the snow. Covered in snow one day and had golfers out on it just a couple of days later. And, if you really want a dose of snow, you can always drive 45 mins. to Mt. Charleston where the 8000 foot elevation means that they are usually about 20 degrees cooler than in the Las Vegas valley. In Winter, they even have four ski slopes for those who want to get cold.
This year, we did have a day back in November when we had snow flurries in the higher elevations and around the foothills but so far it's been a beautiful Winter. This week's forecast for the end of January, first of July is mostly Sunny and highs in the mid 60's. Not a bad climate.