Selling Your Las Vegas Home and the Absorption Rate
Posted by Debbie Drummond on Monday, May 7, 2012 at 3:41 AM
By Debbie Drummond / May 7, 2012
Comment
Selling your Las Vegas home will be easier if you understand the absorption rate for the current market and how it affects the price you will ultimately receive for your home. In real estate, the absorption rate refers to the pace at which homes are being taken off the market in comparison to homes coming on the market.
You arrive at the absorption rate by taking the total number of homes sold over the past year and dividing by twelve months. This gives you the average number of homes being sold each month in your area. Then you determine how many properties are currently listed for sale without accepted offers on them. Divide this number by the number of homes sold per month to arrive at how many months it would take to sell all the current listings "if" no new homes were listed for sale.
For example, in Las Vegas, we currently have 5479 homes listed for sale in the MLS. This includes condos, town homes and single family homes in all of North Las Vegas, Las Vegas and Henderson. Over the past year, we sold 47,095 homes in these areas. Divide the number sold by 12 to find that we averaged 3924.58 homes sold each month in the Las Vegas area. Divide the 5479 homes currently listed for sale by the average of 3924.58 per month to find that we currently have 1.39 months worth of inventory. If no new homes were listed for sale, the current listings would be sold in less than six weeks.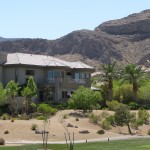 This is an important overall gauge of how a specific market is doing. The National Association of Realtors traditionally considers a six month supply of homes for sale as a "stable" market. If you have more than a six month absorption rate, it is a buyer's market. Las Vegas has been a buyer's market for much of the past five years. If you have less than a six month supply, it is regarded as a seller's market. While prices are still low, we are seeing that the market is behaving like a seller's market with multiple offers on homes that are well priced. If our inventory continues to decline, we are likely to see upward pressure on prices over the common months.
We can take the absorption rate a step further. If you look at a specific neighborhood, such as homes for sale in Summerlin, you will see that we sold 1858 homes through the MLS over the past year, or 154.8 per month. We currently have 271 homes listed for sale in Summerlin. That works out to a 1.75 absorption rate.
Why does Summerlin have a higher absorption rate than the broader Las Vegas market? Summerlin is one of our most popular communities, which is reflected in the home prices. In Summerlin we currently have 68 homes that are priced at more than $1 Million. We have two homes in Summerlin that are listed for more than $10 million. The majority (59%) of the Las Vegas homes that have sold this past year were priced for less than $125,000. We only have 13 homes listed for $125,000 or less in the Summerlin area and only three of those are single family.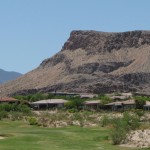 If you look at the Luxury Home communities in Summerlin, you will find a higher absorption rate. Red Rock Country Club has 38 homes listed with prices that range from $330K to $3,499,999. We sold 95 homes in Red Rock over the past year which means they have a 4.8 month supply of homes for sale which is moving into a seller's market.
The Ridges of Summerlinhas 30 homes that are currently listed with prices ranging from $799,997 to $13.9M. There were 28 homes sold in the Ridges over the past year, giving them a 12.8 absorption rate. If you are buying in the Ridges, there will be more room to negotiate than you'll find in Red Rock or less expensive neighborhoods in Summerlin. If you are selling in the Ridges and need to sell quicker, the higher absorption rate means that you should price your home aggressively.
If you are selling your Las Vegas home, understanding the absorption rate for your specific community as well as for homes in your price range will help you determine how aggressively you should price your home. If you would like to take a more specific look at your particular subdivision and the price range that is typical for your home, just call (702)354-6900 or email [email protected].