Should You Buy a High Rise Condo
Posted by Debbie Drummond on Sunday, May 11, 2014 at 1:27 AM
By Debbie Drummond / May 11, 2014
Comment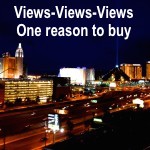 The option of buying a high rise condo is no longer restricted to big cities like New York. Tall buildings with windows that sparkle in the sun have popped up along coastal areas and in smaller cities like Las Vegas. The high rise life style appeals to many buyers but isn't perfect for everyone.
Whether a condo is the right choice for you depends on your lifestyle preferences and your budget. Karen Highland's "Is Condominium Living Right For You?" poses some great questions for anyone who is debating whether to buy a single family home or a condo. Whether you're buying a high rise condo or a traditional condo, you will find some of the same drawbacks Karen mentions. Storage space is likely to be limited. You will have to obey the building's rules about noise, parking, pets, etc.
High Rise Living Pros and Cons:
Carefree living - You will have less to maintain in a high rise than a single family home. Condo owners only have to worry about maintaining the interior of their condos. No mowing the lawn or cleaning the pool. No roofs to maintain. You will need to change the batteries in smoke detectors.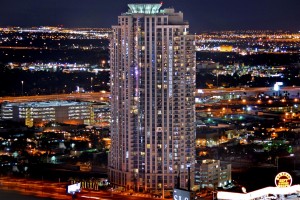 The HOA will even schedule cleaning the exteriors of your windows. The Martin, one of Las Vegas most popular high rise buildings, has what they call "Effortless Living". They will arrange to have your favorite snacks in the fridge when you come home from vacation.
Amenities - Most high rise buildings have an assortment of amenities to enjoy. Swimming pools and fitness centers are common. Rooftop swimming pools with views can be tempting. Several of the high rise buildings in Las Vegas have media rooms that owners can reserve for parties. Game rooms can include billiards or poker tables. Luxury buildings have 24 hour valet and concierge service. Turnberry Place was the first local high rise to have their own limos. Panorama Towers and The Martin now have car service to drop off and pick up home owners.
Security or the "Lock and Leave Lifestyle" - A lot of our high rise buyers want the freedom to travel. High rise buildings have more security than traditional condos and homes. About a third of the Las Vegas high rise communities are guard-gated.
Inside the building, there is typically a desk attendant. Most buildings have some sort of video cameras/monitors. The latest technology has control of elevator access to the floors. The elevator won't stop on a floor unless you have a fob that is programmed for that floor. Panorama Towers elevators allow owners access to their floor from their fingerprints. How cool is that?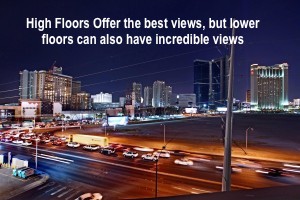 Controlling elevator access, video cameras, etc., is a step above the security you find in a typical 2 or 3 story condo building. Of course, the increased security and employees to staff the guard-gate or front desk will add to the monthly HOA fees.
Views are one of the most important things high rise buyers want. Yet not all high rise condos offer a spectacular view. The higher floors tend to have better views but it depends on which direction they face. Some buyers prefer a Strip view while others prefer Mountain. The best views usually come at a premium price. Veer Towers, Newport and SOHO Lofts offer rooftop pools and fitness centers. Owners who don't have view units can still enjoy them.
Price is the biggest complaint we hear about high rise condos. For a high rise to appeal to enough owners to get all the units sold, it needs to be near attractions like the ocean or the Strip. The land they're built on comes at a premium because it is near those attractions. On top of the higher cost for the land, high rise buildings use more steel and cement in their construction which adds to the cost. Construction labor is more likely to be skilled union workers.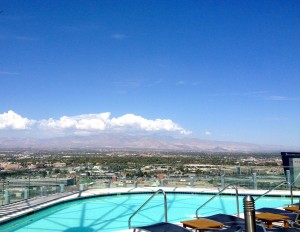 These are all issues that contribute to the cost of a high rise condo. It cost at least $400-$500/sf to build a basic high rise condo. More for a building with luxury finishes and amenities. We're still at a point where you can buy a high rise condo in Las Vegas for less than it would cost to replace it.
HOA Fees - This is the other major complaint we hear about high rise buildings. The low maintenance and increased security come with a price tag. You should consider how much you would pay for monthly pool, landscape and pest control services at a traditional home. Add to that membership in a gym. Then a little extra to go in a reserve account for the day when the building needs painting, etc. The HOA will cover insurance on the building. Owners will still need to carry their own liability and contents insurance. Add up your monthly maintenance expenses plus insurance for your single family home. Throw in the cost of gym membership. It may surprise you that the high rise HOAs aren't that much higher.
Can you finance the high rise condo?
Financing in our high rise buildings has been challenging over recent years. In fact, the majority of buyers have paid cash. I asked Mortgage Banker, Brandon Hawkinson how the mortgage process works for high rise condos. This is what he said,
"In order to qualify for Fannie Mae, Freddie Mac or Ginnie Mae (FHA) financing, a building must have 8821 approval. Some buildings have multi million dollar lawsuits against them or they're currently in litigation. In others, investors own more than 51% of the project. All those things will cost a condo project their 8821 approval.
If the building does not have 8821 approval, the condo is considered non warrant able. Strong buyers may still qualify for a conventional mortgage. I also have Portfolio Lenders that will do up to 95% financing at slightly higher rates, depending on the client's credit score and the condo project. Finally, we have a Stated Income Lender who will finance non warrant able condos with 25-30% down, depending on the client's credit.
What does the future look like for high rise owners?
Las Vegas high rise condos were hit hard with foreclosures. Now we're seeing fewer of them. Prices have stabilized and some are appreciating. You can still buy a high rise for less than it would cost to replace it. No one has announced plans to build new high rise properties. The ones that we have now should increase in value as unsold units in The Martin, Veer and Turnberry Towers are finally sold.
We do recommend that buyers research the Homeowners Associations. A recent Bankrate.com article looked at the "High Cost of High Rise Living". Their article reports the costs of maintaining a high rise building increased 25% over the past decade. We haven't seen HOA fees increase like that locally but who knows what the next decade will bring?
Tips for Buying a High Rise - It goes without question that you should work with an agent who specializes in high rise properties. They'll know which buildings have what amenities. They'll be more familiar with the do's and don't's of each building. They'll have a better understanding of which units have the best views and how that affects property values. We also suggest that you look at each of the buildings with units in your price range. Many buyers come into town planning to buy in Building X until they saw Building Y. Better to take a look at all the options before you buy.