Tips for Downsizing Your Home
Posted by Debbie Drummond on Sunday, February 15, 2015 at 8:29 PM
By Debbie Drummond / February 15, 2015
Comment
Should You Buy a Condo, Town Home or Smaller House?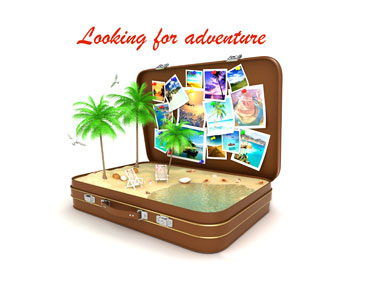 The types of homes we live in may vary over the course of our lives. Maybe your first home was a starter that you fixed up yourself. Then you moved to a larger home as your career took off and you started a family. Now you're at a point where it's time to simplify your life. Buying a smaller home that requires less maintenance and expense can free up your time and resources. Or maybe you're considering buying a vacation home where you can escape the hustle and bustle of a busy life.
When you're ready to downsize to a smaller home, the first step is deciding what type of home will work best for your needs. Here are some things to consider when it's time to downsize.
Carefree Condo Living
Buying a condo offers advantages and disadvantages. Empty nesters who want to travel will enjoy not having a yard to maintain. The costs of maintaining the yard, the roof, etc., are included in the condominium's monthly HOA fees. Make sure condo living is right for you before you buy.
Here a few of the drawbacks you will have to live with in a condo -
Lack of storage space. Some condos do have an assigned and/or deeded storage locker. If they have them they tend to be small. Where will you store holiday decorations, out of season clothing or sporting goods? Having space for those family heirlooms and personal items is an issue for anyone who wants to downsize.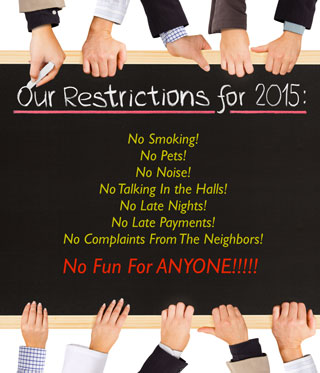 Homeowner's Associations can be irritating. We hear more complaints from homeowners about HOAs than almost anything. If you live in a condo, you should be considerate of the neighbors. No playing loud music in the middle of the night. No taking up two parking spaces. The HOA may not appreciate you flying your rebel flag on the balcony or hanging purple drapes in the windows. Of course, you won't have to worry about your neighbors doing those things either.
Make sure you read the HOA rules before you buy a condo. This is true when buying a single family home in a community that's governed by an HOA. In a condo where you share more common areas, it's crucial. You want to pay attention to the Association's budget and financial reserves. Condominiums have a greater shared maintenance expense than single family homes. The community has to pay for the roof repairs, elevator repairs, etc. Does the building have enough reserves to handle major expenses?
Pet owners should consider whether a condo is a suitable home for their furred and feathered friends. Again, read the HOA's rules. Many condominiums have limits on how many pets, what type and what sizes are allowed. The neighbors probably won't enjoy having a loud parrot in the condo next door.
Financing can be challenging for today's condo buyers. Over the past few years foreclosures drove the prices of condos down. This created opportunities for investors to pick up condos and turn them into rentals. If the condo association has allowed more than 50% of the units to be leased, you may not be able to get a mortgage.
Pending Litigation is another issue we see in condominium complexes. Homeowners may feel repairs are the builder's responsibility to fix. Filing a lawsuit against the builder will send banks running until the litigation has been settled.
Advantages of Owning a Condo - On the positive side, you won't have to mow a lawn. In Las Vegas, the typical condo community offers a nice swimming pool and fitness facility. In a complex with a pool and gym, it's like having a gym membership included. Most condominium buildings have some level of security. Controlled access makes it easier to lock your condo and take off for that six month cruise you've been dreaming of. If buying a condo is right for you, "Tips for Buying a Condo" by Bill Gassett is a must read.
Townhomes - More Maintenance Than a Condo, Less Than a House
Ready for a more carefree lifestyle but still want a small yard? Townhomes offer many of the advantages of condos. When you buy a condo you own the walls and the airpsace inside those walls. When you buy a townhome, you own the ground beneath the home and the airspace above the home.
In addition, most townhomes include a small backyard. The small yard is one reason pet owners prefer a townhome over a condo. Desert landscaping or using pavers instead of grass works great for low maintenance backyards. Townhomes usually have an attached garage. The garage may offer some space for storage.
Townhomes usually have at least one wall that is shared with another townhome. The walls are built to fire safety codes which helps reduce noise. You still have to be sensitive to the neighbors when playing loud music. Since townhomes are attached structures, exterior maintenance may be covered by the HOA. Roofs, exterior paint, front landscaping is often the HOA's responsibility with a townhome.
Townhome communities have similar amenities to a condominium. Most Las Vegas townhomes have a community pool. Some have a fitness center or workout room. Condo buildings may offer more control over who has access to the building. Townhomes are often in gated communities. The gates may provide some security but it's pretty easy to follow someone through a mechanical gate.
Reading the CC&Rs is essential if you're buying a townhome. Again, you will want to make sure there are no rules you can't abide by. You'll want to make sure the HOA's finances are in order.
When A House is the Only Option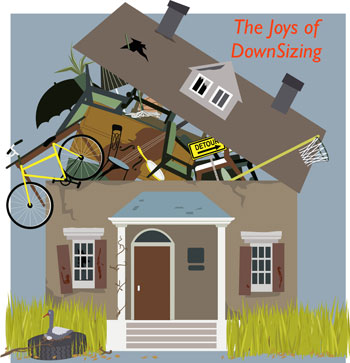 Condos and townhomes can offer a great lifestyle but they aren't right for everyone. If the family pets are giant mastiffs, you'll probably want to stick with a single family home. If you prefer having your own pool with swim suits optional, you won't be happy in a condo.
Parking an RV, boat or other recreational vehicle on the premises isn't allowed in most condo associations. There are some HOAs that allow for RV/boat parking next to single family homes. Buying a home that isn't in an HOA is sometimes the best option if you need to park your toys in the driveway.
Don't Get Carried Away When Downsizing Your Home
One of the most common regrets buyers have is buying a home that's too small. Before you downsize to a smaller home, make sure that you're being realistic. Put together a list of all the furniture and possessions you have to move into the new home. Now measure the room and closet sizes of the new home.
Is everything going to fit? Are their items you can part with or place in storage? If a condo or townhome means you have to get rid of things that are important, maybe you should look for something a little larger. Owning a house will never be as carefree as living in a condo. Sometimes the added space and privacy make up for the convenience of condo living.
Once you've decided what type of home is right for you, it's time to start getting rid of things. You don't want to move everything to the new home just to have it clutter the place up until you can sort through it. Keep it simple. Start by getting rid of things that aren't worth donating. Donate or sell things that might still be useful to someone else. Only keep the things that will fit in the new home and that you still want.