Smith Center Cabaret Jazz Series Featuring Lucy Woodward
Posted by Debbie Drummond on Monday, June 18, 2012 at 3:08 AM
By Debbie Drummond / June 18, 2012
Comment
The Smith Center Cabaret Jazz series is demonstrating that Smith Center isn't only a place for theatre, symphony and dance. The Center was designed with a smaller hall which only seats 258 that is now hosting the Cabaret Jazz Series. We're fans of smaller, more intimate venues and have been looking forward to seeing a show in this setting.
This past week-end, featured Lucy Woodward an artist we weren't familiar with but we were intrigued when @SmithCenterLV tweeted "Here's a song for all the vampires out there...you can catch Lucy Woodward this Friday and Saturday at Cabaret... http://fb.me/1A0WrDLZJ " That's just the sort of sassy, bluesy, jazzy music we happen to like. Still, we already had dinner plans with friends for Saturday night and our usual Sunday night season ticket to see the #MillionDollarQuartet which was playing in Reynolds Hall at Smith Center last week.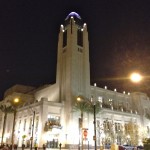 When @SmithCenterLV tweeted their special offer allowing the first 50 who responded to purchase tickets to Lucy Woodward's show with a two for one discount, we were in. As it turns out, we enjoyed the show enough that we would gladly pay full price if she returns. That probably isn't likely in the near future, since she announced that she's been invited to go on tour with Rod Stewart/Stevie Nicks. Happy for her that she has the tour. Spent many disco nights dancing to Rod Stewart in our younger days but at this point in time, we'd rather pay to see an artist like Lucy Woodward along with her band and her newly formed vocal trio "The Goods" performing their songs. Yes, they're that good!
Woodward is a talented vocalist who demonstrated that she has the unique ability to pull off about any style she chooses. Her new trio, "The Goods" notes in their Twitter bio that if the Andrews Sisters and Bridget Jones got together "we are what they would sound like". I would throw in a bit of Bette Midler to that mix. Although they brought in a bit of Beyonce with their cover of Single Ladies.
However, you would describe them, Lucy Woodward and The Goods did a show that was very engaging. And the venue lived up to what we had hoped. When looking at the map, we liked how the mezzanine seats seemed to have space around them, and going back to shows at the Fillmore, we've always been fond of mezzanine seating. The Cabaret Jazz venue in Smith Center's Boman Hall could easily compete with some of the top venues for smaller, intimate shows. The acoustics were great and it was very comfortable. We definitely enjoyed the mezzanine level, but now that we've seen it, I don't believe there's a bad seat in this hall. And, my guy with a sweet tooth discovered that they do a great Bread Pudding. Yes, we're fans of the group and of the Smith Center Cabaret Jazz Series.