The Bellagio Conservatory - Memorial Day & July 4, 2012
Posted by Debbie Drummond on Monday, May 28, 2012 at 3:46 AM
By Debbie Drummond / May 28, 2012
Comment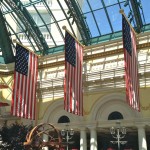 The Bellagio Conservatory is one of our favorite attractions on the Strip. With a large space that is decorated to celebrate different seasons/holidays throughout the year, we try to make it by to see each of their new displays. Each year, they tend to do a Patriotic Theme for Memorial Day and leave the display up through the July 4th holiday as well as Labor Day week-end.
This Summer's Display titled "Sail to New England" will be up through September 9th. The flowers are grown in the Bellagio's own greenhouse. You'll find they frequently do sculptures of animals and even people using blooms from their green house to decorate them.
This display for Memorial Day features an old fashioned light house and small sailboat in the "lake" at the back of the conservatory. Two water spheres in the middle of the entry use re-cycled water. A gazebo draped in flags creates the feeling of being in a small town on the holiday. And the carousel further enhances the small town feel. The Bellagio Conservatory changes their display several times throughout the year.
The Memorial Day display will be up through September 9th. They typically do a fall display which goes up after the Summer Display and stays through Christmas and New Year's Eve. Followed by the Chinese New Year Display. After the Chinese New Year, is the Spring display which has featured beautiful flowers and even butterflies in previous years. And then we're back to the "Summer Display" which starts Memorial Day and over the years we've lived here, it always features the American Flag.
While the fountains at the Bellagio have become a symbol for Las Vegas that is recognized around the world, the conservatory attracts a large following of visitors who come to take pictures of the latest display. Just around the corner from the Conservatory, one also finds Jean Phillippe where you can see the largest chocolate fountain in town and buy an ice cream cone or pastry to enjoy as you stroll through the Bellagio Conservatory and their latest display. For those of us who live in Las Vegas, the Bellagio Conservatory is only a 15-20 minute drive from the most distant neighborhoods. To see homes for sale, visit our website.