The Bellagio Fountains Still Dazzle
Posted by Debbie Drummond on Friday, June 8, 2012 at 3:34 AM
By Debbie Drummond / June 8, 2012
Comment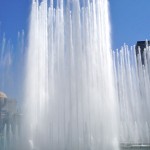 The Bellagio Fountains have become a symbol of Las Vegas. Whether it's in a movie or on the news, when you see those fountains, you know the location is at the Bellagio Hotel on the Las Vegas Strip.
For those of us who live in Las Vegas, we may not go to visit the Strip unless we're playing tour guide, or like some of us who frequently end up on the Strip as part of our work. Having lived in Las Vegas for ten years now, I would still include the Bellagio Fountains as one of my favorite sites to see and a must see for anyone who comes to visit.
The Bellagio held its grand opening in 1998. It was developed by visionary/Casino Mogul Steve Wynn and later sold to MGM. With excellent service, established restaurants and other popular attractions like Cirque de Soleil's "O" and the Conservatory, it is still regarded as one of our top Hotels.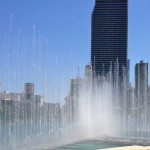 The main attraction is made up of more than 1200 dancing fountains in a lake of more than 8.5 acres of water. They span 1000 feet and reach up to 460 feet high. They normally operate from 3 p.m. until midnight Monday thru Friday, with shows every half hour until 7 p.m. Shows are every 15 mins. after 7 p.m. Week-ends and holidays, shows start at noon with shows every half hour until 7 p.m. when they resume their 15 minute intervals.
The Fountains "dance" to a wide variety of songs and performers. On a recent visit we were able to video tape them with Andrea Bocelli, Fred Astaire, Michael Jackson, Elvis and a broadway version of "Big Spender". There is no admission charge, however, we have found a few favorite spots for viewing them. From the Bellagio, we enjoy having lunch on the patio at Olives or dinner at Circo or Le Cirque with view tables. From across the street, we enjoy the view from Mon Ami Gabi or the Eiffel Tower Restaurant. The Eiffel Tower is a truly different perspective for viewing them. While you don't hear the music that well inside the restaurant, you get a true sense of how high they spray into the air when you realize the plumes of water are as high as the restaurant on the 14th floor.
The Bellagio Fountains are just another reason we love Las Vegas. If you would like to see nearby high rise condos or luxury homes, call (702)354-6900.