The Ultimate Mid-Century Modern Community in Las Vegas: Paradise Palms
Posted by Debbie Drummond on Saturday, July 31, 2021 at 8:53 AM
By Debbie Drummond / July 31, 2021
Comment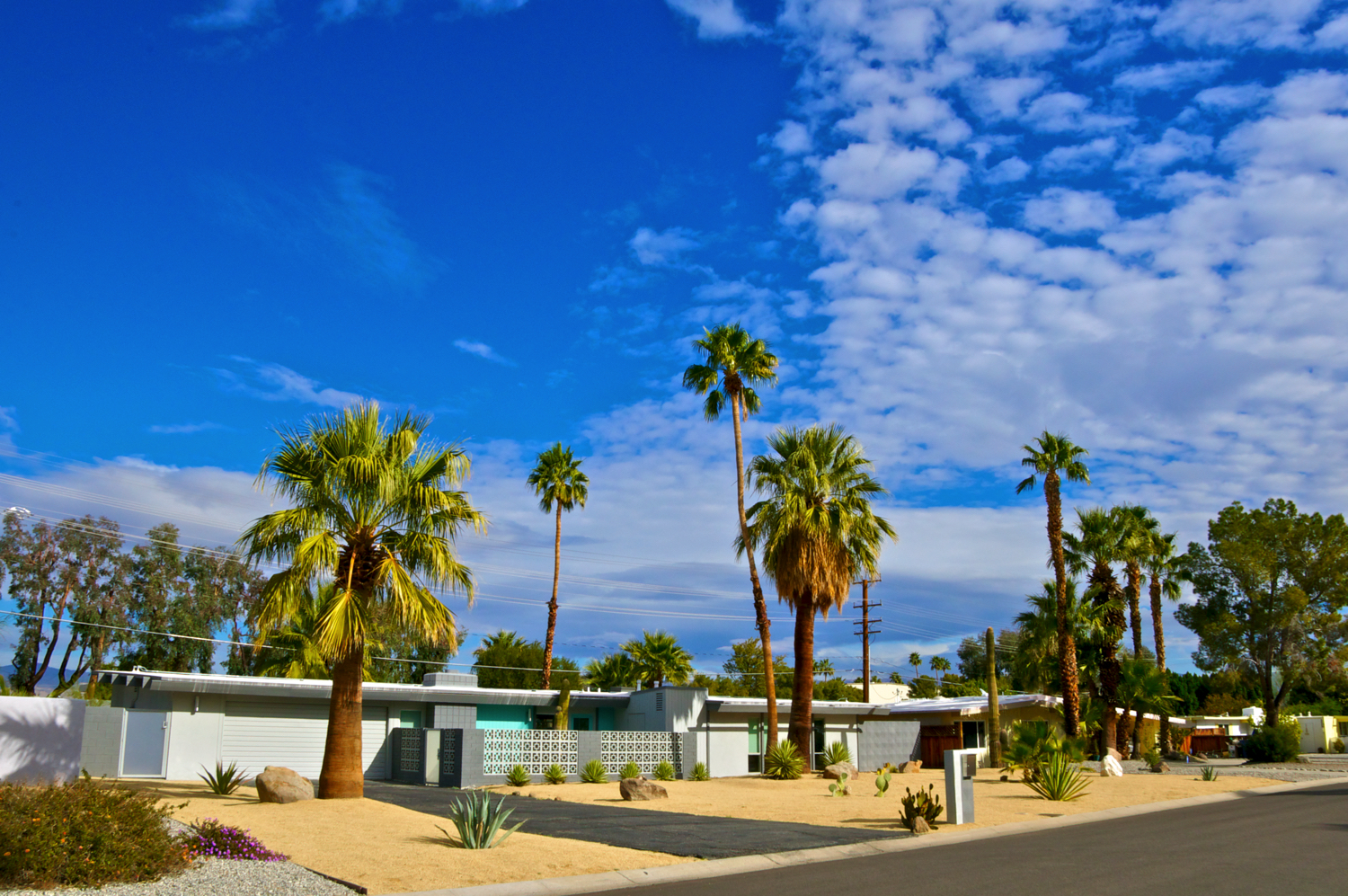 Noted as the very first master-planned community in all of Las Vegas, Paradise Palms is the area's ultimate Mid-Century Modern community. Once home to countless celebrities, entertainers, local business leaders, and gaming leaders, Paradise Palms first rose to fame in the 1960s and still remains a popular destination for today's home buyers who truly love and appreciate Mid-Century Modern design.
The Beginning
Development for Paradise Palms began back in March of 1960 and the project was originally slated to include just 300 homes. But because of the community's unique layout that included a broad network of curved streets that all end in a cul-de-sac, which of course created much more privacy and a better living experience for the swarms of people who were starting to move to Las Vegas at that time, it wasn't long before Paradise Palms welcomed more than 1,000 residences over a sprawling 720 acres.
After just one year into construction, developer Paradise Homes already recognized the popularity and the demand for homes in this part of the valley and proceeded to hire Palmer and Krisel Architects for further expansion.
Although still a young architectural firm at the time, Palmer and Krisel had just completed construction of hundreds of homes in Palm Springs, California, and it's said that many of the homes in Paradise Palms from this point forward borrowed similar concepts from other Palmer and Krisel communities—a style we now commonly know today as Desert Modern.
Common features applied to homes in Paradise Palms included salt, gable, folded plate, or butterfly roofs; post and beam construction with facades using combinations of decorative block, shadow block, stone or board, or batten siding; and sides and rears of home finished in a medium sand stucco finish.
Inside, home buyers were delighted to find wide open floor plans, kitchens with floating islands, shoji sliding doors, unique fireplaces with block or floating concrete hearths, sunken bathtubs, and ceramic tile countertops in either grey, yellow, brown, cinnamon, or blue—a hallmark of Krisel's designs in that era.
Paradise Palms Today
These days, it's estimated that around 400 homes built by Palmer & Krisel can still be found in Paradise Palms, which of course are among the most sought-after by Mid-Century enthusiasts looking for a new place to call home. Other homes designed by the duo that once stood on Eastern Avenue have since been torn down for commercial development, and the ones that do still remain have since been converted for commercial use.
The good news for history buffs and Mid-Century Modern lovers alike, though, is that a portion of the Paradise Palms neighborhood is now designated as a Historic Neighborhood Overlay District, which currently covers 200 original homes and could eventually be expanded to include a historic designation for all remaining homes in the community.
For today's active home buyers, many Paradise Palms homes for sale still feature characteristics like butterfly roofs, breeze-block walls, brightly hued doors and well-manicured lawns and gardens. And a considerable number of homes have been remodeled, or at the very least, well-maintained over the years, allowing for plenty of move-in ready options.
The Location & History: A Brief Overview
While the unique design and historic appeal of Paradise Palms is enough to attract home buyers all on its own, the neighborhood also offers a desirable location that's a short drive from the Vegas Strip. Young home buyers also love that many of the homes sit within walking distance of area schools, as well as numerous outdoor recreational amenities like Molasky Family Park, which offers picnic areas, dog runs, and a playground.
While more recent updates give the homes of Paradise Palms modern style points, the homes are still able to retain many of the interesting attributes that first drew prospective homeowners to this Mid-Century Modern community in the first place. Situated on the Las Vegas National Golf Course, some of the homes of Paradise Palms also enjoy the availability of private outdoor space that overlooks the course, a popular feature for anyone looking for the ultimate desert retreat.
It's because of the golf course and club that a large number of celebrities have been tied to Paradise Palms over the years, including the likes of Debbie Reynolds, Dean Martin, Johnny Carson and Howard Hughes. Top casino execs have also once owned homes in the community, and it's even said that the Rat Pack used the golf course country club as a hangout back in the day.
Looking Ahead
At some point between the 1970s and 1990s Paradise Palms began to lose its luster, and those once attracted to the neighborhood started moving to more contemporary homes in suburban areas. Flash forward to more recent years, however, and Mid-Century Modern homes are once again regaining popularity.
Gen Xers and Millennials are now the ones commonly attracted to the modern architecture, as well as the affordability of homes in Paradise Palms. While market conditions are always fluctuating, move-in ready, truly authentic Mid-Century Modern homes in Paradise Palms typically start in the mid-to-upper $400,000s. Or you might even get lucky and find a nice fixer-upper with incredible potential for under $300,000.