Things Every Buyer Should Know About Today's Home Sellers
Posted by Debbie Drummond on Friday, September 25, 2015 at 4:59 PM
By Debbie Drummond / September 25, 2015
Comment
Buying a Home in a Market That Favors Sellers
Late last year, we published "What Every Seller Should Know About Today's Home Buyers". It's crucial for sellers to understand how much info buyers have available online. It's also a good idea for buyers to understand the mindset of today's sellers. This is especially true in a market like ours where low inventory gives sellers an advantage.
Today's Home Sellers - Motivated Not Desperate
Today's homes for sale are returning to traditional listings. Short sales and foreclosures make up 14% of the homes listed for sale in Las Vegas. When you do find a foreclosure or short sale, they aren't the bargain of yesteryear. Banks are pricing them to sell but they've stopped giving them away.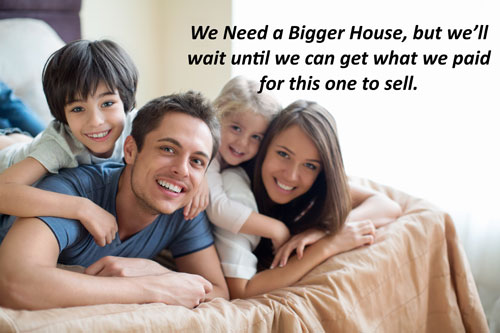 Traditional sellers who list their homes may be aware that we have a low inventory of homes for sale. Some sellers use the low inventory to justify over-pricing their homes. As their home sits on the market for a couple of months, they may realize their mistake and drop the price. Other sellers may take their home off the market until they can get their price.
Many of today's sellers have been waiting out the market. When you see a home that is over-priced, you and your agent should include comps with your offer. Don't be disappointed if the sellers still won't budge. Today's sellers have held onto their home while it was underwater. They've waited to list until the market has turned around. Many can wait a little longer if necessary. In some cases they're even getting their price.
Be Prepared to Show You Are a Qualified Buyer
Today's home sellers know anyone can go online and get a quick pre-qualification letter. Before accepting an offer, smart sellers are demanding a "pre-approval" letter. Sellers want to know your lender has verified your income and assets.
When buying a luxury home, it is now common for sellers to ask for financials before allowing you to see the home. We're seeing this on most homes priced above $1 Million. We sometimes see "financials required" on more moderately priced homes. Sellers are increasingly weary of letting just anyone come look at their home.
Today's buyers should get their pre-approval before looking at homes. If you can find a Realtor who will show you homes without it, you won't get your offer accepted without one.
Cash may be King but Price is Queen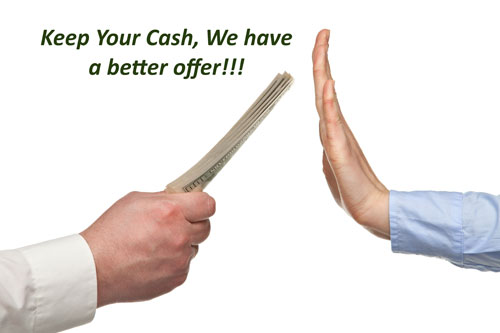 Many buyers hope that paying cash will get them a better price. Today's sellers will wait for a mortgage if it means their home sells for 20% more. A seller who is in a hurry may give a small discount to a cash buyer who can close quick.
On top of closing quick, cash offers don't include an appraisal contingency. If sellers worry that their home won't appraise, cash buyers may have an advantage. If sellers are confident the home will appraise, they'll wait for a buyer who will pay their price.
Closing Cost Contributions Exception, Not the Rule
Sellers rarely contribute to closing costs in today's market. Nationally, the supply of homes listed for sale is less than six months. This favors sellers. In some markets, there's less than a 4 month or even 2 month supply of homes for sale. Low inventory means sellers don't have to help buyers with their closing costs. And if they do, they'll demand that the price be increased accordingly.
Sellers May Irritate Their Own Agent
Motivated sellers will do their best to help their agent get the home sold. They will make it easy for buyers to see their home. They will take the time to tidy up, leave the lights on and set the stage to make the home look its best. Not all sellers are equally motivated. Don't be surprised if you arrive at a home that looked fabulous in the pictures to find it looks like a mess in real life. Dirty dishes and laundry on the floor are an easy fix. Try overlooking the mess to see the home's potential when you run into this situation.
Don't Believe the Online Property Valuations
Don't get fixed on a computer generated value when making your offer. As a buyer, you surf the web and look at sites that offer home values. You'll check what they say about the home you want to buy.
The sellers have probably looked at these sites too. They will already know what those sites say about their home's value. When they priced their home, their agent took a close look at the comps. They will have a list of upgrades, features and comps to support their price. If you insist on paying the "guesstimate" price, get ready to see your offers rejected. It's easy for sellers to dispute the home valuation websites. After all, some of them feature homes that aren't even for sale.
When making your offer, ask your agent to show you the latest comps for similar homes in the same community. Compare the features of the homes that sold to the one you want to buy. How does the home compare to current listings? Take all those things into consideration when coming up with your offer.
Open Houses Are For Amusement
Smart sellers don't allow their agents to hold open houses. The internet has made it easy for serious buyers to preview homes online. Savvy home sellers realize this and they don't want the inconvenience of an open house. The security risks of having people walk off the Street walk into their home is an open house negative.
Buyers save time and gas money by working with a Realtor who will send new listings as soon as they hit the market. They'll preview them online and schedule showing appointments. Serious buyers don't waste time wandering from one open house to the next.
Hey Buyer, Home Sellers Use the Internet Too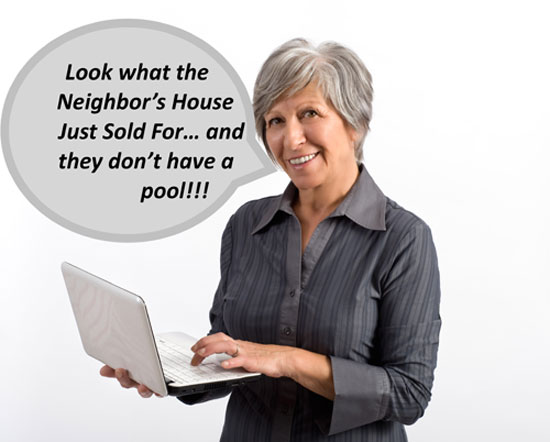 Today's Home Sellers are Informed. If you see a home that's priced unrealistically low, don't get your hopes up. Don't assume the seller is desperate or doesn't realize they're priced under market value. Most sellers are looking at the same websites buyers look at. They generally know what the house down the street sold for. They may have even been inside it to know how it compared.
If they've priced their home at a low price, it's usually one of two reasons. There could be some repair issues. Or maybe they've set the price low to stir up multiple offers and a bidding frenzy. When you see a nice home priced below market value don't try to bid less than the list price. If you do, other buyers will be making better offers while you wait for the seller's rejection.
Today's homeowners are using the same tools buyers use to keep an eye on their neighborhood. They'll know what the house down the street sold for. They'll know how the local economy is doing. Most of them have waited out the recession. They'll sell if they get an acceptable price. Otherwise, they'll stay put or turn the home into a rental property.
Happiest Outcomes are Win-Win Situations
Everyone loves to get a "deal". The housing market had a fire sale over the past few years. Buyers got used to seeing homes at bargain basement prices. Today's market is a different story. It favors sellers in most metropolitan areas. Prices are still below the peak values in Las Vegas and most markets. There are still good values to be found but don't expect to "steal" a home.
If you're ready to buy in today's market, find an experienced Realtor who knows the local market. They'll provide up to date info on the latest market trends. They'll help you determine a fair price for the home you want to buy. They'll help you negotiate an agreement that's acceptable to you and the sellers.