Things To Do In Las Vegas - Zappos Tour
Posted by Debbie Drummond on Sunday, October 19, 2014 at 9:17 PM
By Debbie Drummond / October 19, 2014
Comment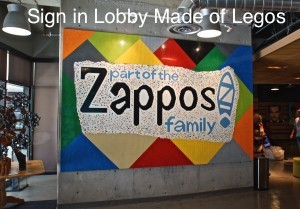 So why would you want to spend an hour in Las Vegas touring a place where people work?
For starters, they have a great selection of artwork scattered about the place. Add to that an interesting success story and a unique work environment.
The tours must be scheduled in advance. There is no cost for the Zappos Group tour experience. That's the one we took. They ask you to arrive half an hour early so everyone can get checked in and the tour can start on time. Photos of computer monitors and video are not allowed. Otherwise, you can snap away.
Parking is in the garage behind the building and is free. Our friends ran a little late. The parking lot was full when they arrived. They ended up having to use the public parking underneath the freeway. Gave them a chance to walk past the murals on the wall in the back of the building. (You can see my pics of the murals at the end of this post. You can see them in person on 4th Street.)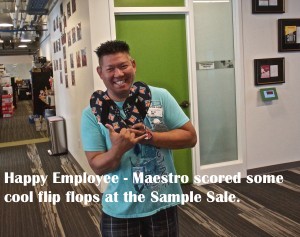 Our tour happened on a day when they were having their "Sample Sale". We watched as employees used their break times to go check out the samples that vendors had brought for their sales meetings. The sale was set up in the circular courtyard in the center of the complex. We saw a lot of happy faces. The "Maestro" of the tour guides posed for a picture with his $5 flip flops. They reminded him of his native HI.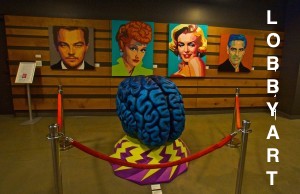 We didn't mind that we had arrived a bit early because the lobby is an interesting place to check out. While we waited for everyone to arrive, we got to enjoy the lobby art. One of our favorites from the tour was the collection of four celebrity portraits. Lucille Ball and Marilyn Monroe in the center are stunning. George & Leo aren't bad either. And in front of them was an interesting sculpture that looked like a brain to us.
Once everyone had checked in, we were given passes to wear around our necks. We were able to scan them to get into the areas we toured. Adhesive badges were printed with our names on them too. At the end of the tour, we got to paste them on a growing ball of stick on labels.
The Culture Guides were introduced to us and we got to watch a movie about how Zappos came to be. Did you know it all started when a guy (Nick Swimnurn) was in San Francisco and couldn't find the boot he wanted? It wasn't in stock in his size/color anywhere. That inspired him to form shoesite.com. His friends and family invested $150K to get it off the ground but they needed more.
By this time Tony Hsieh had started and sold LinkExchange for $265M. Tony then founded Venture Frogs with his college buddy Alfred Lin. It was a venture capital fund to help start ups. Nick brought shoesite.com to them.
To make a long story short, Zappos was born. The name is a play on Zapatos. (Shoes in Spanish.) As they show in the pre-tour movie, they tried Zapos but it didn't sound right. Added another "p" and Zappos. The movie goes on to talk about the issues they had with distribution in the early days. How they moved to Las Vegas in 2004. And finally, how Zappos and Amazon got married in 2009.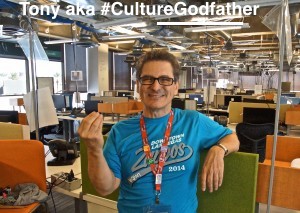 After you watch the movie, the group is divided into smaller groups. Each group is assigned a "Culture Guide". Ours was #culturegodfather aka Tony. Tony's a long time Las Vegas resident. Graduated from UNLV in Hospitality Management. Worked at the Plaza in DowntownLV. He confessed that he worked as a Realtor from 2004-2009. He joined Zappos as the real estate market was tanking.
Tony remembers when the building was City Hall and it had a jail. He pointed out the changes that Zappos has made. When Zappos first took over the space, it was divided into small offices. There were several ways in and out of the building.
Zappos moved into the building in September 2013. The building was completely remodeled before they moved. The ductwork and electrical systems are all overhead and exposed. Makes it much easier for repairs or modifications. The small offices were turned into open work spaces.
There are meeting/conference rooms but only one office. It belongs to the Life Coach and is a private office to protect the confidentiality of employees. Yes, they have a life coach who will help you analyze what you're doing and how you can achieve your goals.
It was obvious that Zappos life agrees with Tony. We started in the Human Resources area. Tony was extremely proud as he pointed out all the benefits they receive. Health insurance with no co-pay. On site fitness and nutrition programs. Generous 401K. #Culturegodfather enjoys working there so much, he could easily tempt you to fill out an application. Had I worked for a company like this ages ago, I might have stayed there 10-20 years.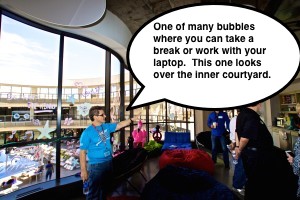 Our #CultureGodfather's pride continued to show as he took us through the facility. We started with a "bubble". There are several of them scattered throughout the complex. We stopped at one on the second floor. It was decorated with an 80's theme. Bean bag chairs, a pink flamingo and board games from the 80s. Each of the bubbles is decorated differently. They're designed to create a comfy place to work with your laptop or take a break.
Speaking of breaks, the area also had a kitchen. Cereals and snacks were on the shelves on one side. The other side had a fridge with space for employees to put the food they brought in and some things like yogurt they could just take. The beverage container next to the fridge was stocked with waters, soft drinks, etc. They were all free to employees except for the energy drinks that cost $2. Tony explained that the vending machine for drinks was on one floor and the vending machine for snacks was on the floor above. It's a way of encouraging those serendipitous encounters that Hsieh promotes. You can read more about how those chance encounters are encouraged in densely populated areas in "Triumph of the City".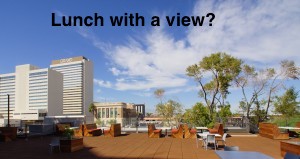 After our visit to the Bubble, we passed through the Skydeck. The Skydeck is another lounge area where one can go with their laptop to work or just to relax. It was designed by the Social media team and features skylights with hammocks and astro-turf. The company is divided into teams who compete for various awards. As a social media type, I was rather proud that the social team won the sky deck design.
We circled around to the cafeteria and one of the nicest outdoor lunch spots in town. We were there just before lunch so the tables were all open, but we could easily imagine the place being full a bit later. Especially since we've been having such nice autumn weather. Again, there's a huge selection of healthy salads and beverages that are free. No drinks are more than $2.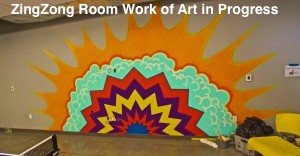 In the same area as the cafeteria, you'll find the Zappos concierge. Yes, there is someone to assist employees with discount tickets to shows, restaurants, etc. And, in the same area you'll find the "Mainframe". Employees can take their smart phones, laptops and tech devices for expert service when needed. It's another employee benefit.
After you've enjoyed lunch in the cafeteria, stop in to the Zing Zong Room for a game of ping pong. Or stop in to see the mural that's a work in progress on the wall by the ping pong table. It was when we reached this point that we realized, we may have to come back in six months to see the completed project.
One of our favorite artistic works was the ode to Jack Nicholson in the Shining. We spotted it as we went into the Customer Loyalty Area. He's painted inside one of the beams that supports the building. By the time we found Jack, we had already seen much of the tour.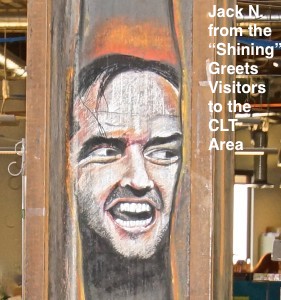 It's fitting that Jack greets those who go to work in the Customer Loyalty Team. You would think they must have to deal with some folks who are irate, upset and it could be a stressful job. We found the atmosphere was upbeat.
Part of the upbeat attitude is because Zappos treats their employees exceptionally well. They also train them well. Tony showed us the training area where new hires spend their first four weeks. Two weeks of that is spent on the phone. It doesn't matter whether you've been hired to work the phones or photograph items for the catalogue. All new hires learn to work the phones.
Finally, those who do end up working the phones are not put on a quota system. Tony showed us the board where they track response times. One of the first things he said was, "there are no quotas." The employees do not work on the basis that they have to make so many sales or do so much gross sales revenue.
Equally surprising, there are no scripts. When you call Zappos, you will not be speaking to someone who has memorized a script to help them pick up on how they should close you. They're trained to pick up on cues. Is there a dog barking in the background? Maybe a baby crying? How's the weather in the area code you're calling from?
As a Realtor, I found this bit of info fascinating. I have never once memorized the scripts that some real estate trainers push. I've always found them corny and insincere. Hearing that a successful company like Zappos can handle their huge call volume without scripts was a true "Ah Ha" moment. The Customer Loyalty Staff consists of 600 employees out of 1600 who work for the company. The CLTs are encouraged to make a connection and provide excellent customer service.
Tony shared with us how he once sent a pair of cowboy boots to a customer who had called with a complaint. The customer had an equestrian event coming up that week-end and her boots obviously were not right. As he said, "mistakes do happen." He could see her customer record. She had never complained or returned items. He didn't have to ask anyone for permission. He found the boots in her size, over-nighted them and refunded the $250 she had paid for the flawed boots that had been sent.
We got to see Tony Hsieh's "office" as part of the tour. We saw that before heading to the CLT area. Hsieh's office is located on "Monkey Row". It's an executive suite unlike any we've ever seen. There are several desks. Each one has their "license plate" with their name on them. Tony's is the one by the window that overlooks the balcony and the courtyard below. It was covered with books and a bottle of un-opened vodka when we were there.
Our final observation about the success of Zappos has to do with Hsieh himself. We've read about his ambitious plans for downtown since it was first announced that Zappos was taking over City Hall. We've frequented the new restaurants as they've opened in the downtown area. We've been to events where Hsieh has talked about Zappos and/or downtown. We've also seen Hsieh walking around downtown. When we've seen him out and about, he is not pretentious. He's dressed nice but casual/comfortable. We caught a glimpse of him when we took the tour as well.
It's obvious that one of the final secrets in the success of Zappos is the personality behind it all. Hsieh is not hidden away behind a locked door. He's out there with his family of workers and is capable of stepping in to answer the phone if needed. For more info on the unique culture, visit Zappos Insights.
At the end of the tour, make sure to grab a couple of books from the Zappos Family Charity Library. The books cost $10 and the money goes to charities within the community.
We did the 11 a.m. tour. It's a perfect time to do the tour followed by lunch at one of the nearby restaurants. Follow that up with a visit to the Downtown Container Park.
This is the first in a new series of blog posts about things to do in Las Vegas by Las Vegas Real Estate expert Debbie Drummond. Follow us to see future articles.
The following photos are some of our other favorite artistic works. The murals can be viewed on 4th Street just North of the Zappos building, before the 95 Fwy-