Time To Sell Your Las Vegas Home?
Posted by Debbie Drummond on Thursday, September 20, 2012 at 3:00 AM
By Debbie Drummond / September 20, 2012
Comment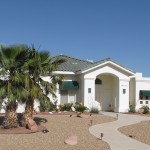 Is it time to sell your Las Vegas home? After years of declining values and a glut of homes on the market, the number of listings in the Greater Las Vegas MLS has declined to an all time low. We've been lingering below 5000 listings for several months.
Currently, we're right at that number. The general consensus is that the banks will be releasing more foreclosures later this year, but in a recent appearance on the FOX News Business Channel, RE/MAX CEO Margaret Kelly expressed optimism that we are past the worst part of the market. We're not out of the woods yet by anyone's estimates but we are at a point where some of the homeowners who have been sitting on the sidelines may finally be able to sell their home without having to do a short sale.
Whether the time is right for selling your home ultimately depends on your personal situation. If you are going to sell, you will need an experienced agent to help you get the best price while protecting your interests. While there are many bits of advice we could give for selling your home, we cover a couple of the most important in the following video. To summarize, price it right and whatever you do, don't hire a Realtor who won't provide multiple, good quality photos. If the agent you're interviewing won't hire a pro to take photos that show the pros of your home, call us (702)354-6900.