Todd English' Olives at the Bellagio For Great Food with a View
Posted by Debbie Drummond on Tuesday, June 12, 2012 at 3:00 AM
By Debbie Drummond / June 12, 2012
Comment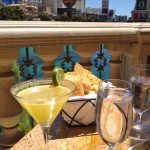 Todd English Olives at the Bellagio is one of our favorite ways to enjoy a nice Summer afternoon. We recently paid them a return visit and got lucky with a table right next to the railing on the patio, over-looking the Bellagio Fountains. The fountains don't start until 3 p.m. on weekdays, but on week-ends, especially holiday week-ends they start earlier and on our recent visit they were doing their show every 15 minutes, making it a great seat to enjoy our relaxing lunch. Starting with cocktails and a basket of their fresh bread accompanied with olive tapenades, the entire meal was wonderful. We started with their Greek Salad which was not your typical version, but instead used baby red romaine lettuces topped with a phyllo triangle. To go with the salad, we enjoyed the flatbread special of the day that was topped with grilled chicken, feta cheese, olives and was very complimentary to the salad.
For the entree' we chose the Jumbo Crab Stuffed Prawns with Saffron Rice Pilaf, yellow and green squash with an orange buerre blanc. I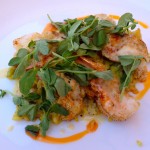 remember years ago when I first tried Olives, one of my favorites was their Saffron Risotto as well as a Saffron Orzo I've tried over the years. From my experience, anything Olives offers that is season with Saffron will be delicious, they know how to use just the right amount to flavor but not overpower. My partner chose the Sea Scallops on a bed of Roasted Tomato Risotto with green pea puree and a shaved fennel salad. It was another winner. We especially enjoyed the combination of the Scalloped with the sweetness of the green pea puree.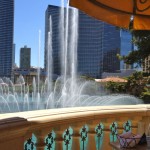 We're also fans of the sister restaurant, Todd English Pub at CityCenter. While the food at the newer location has been outstanding when we've gone there, there is nothing quite like sitting on the patio, indulging in delicious food and wine on a Sunny Day while watching the fountains. And on top of the wonderful food, cocktails and wine, we enjoyed a ring side seat for the show. With food like this and the ring side seat for the Fountains, Todd English Olives is destined to remain one of our favorites. Enjoy the Show.