Unique Approaches to Outdoor Living Spaces
Posted by Debbie Drummond on Monday, January 22, 2018 at 10:44 AM
By Debbie Drummond / January 22, 2018
1 Comment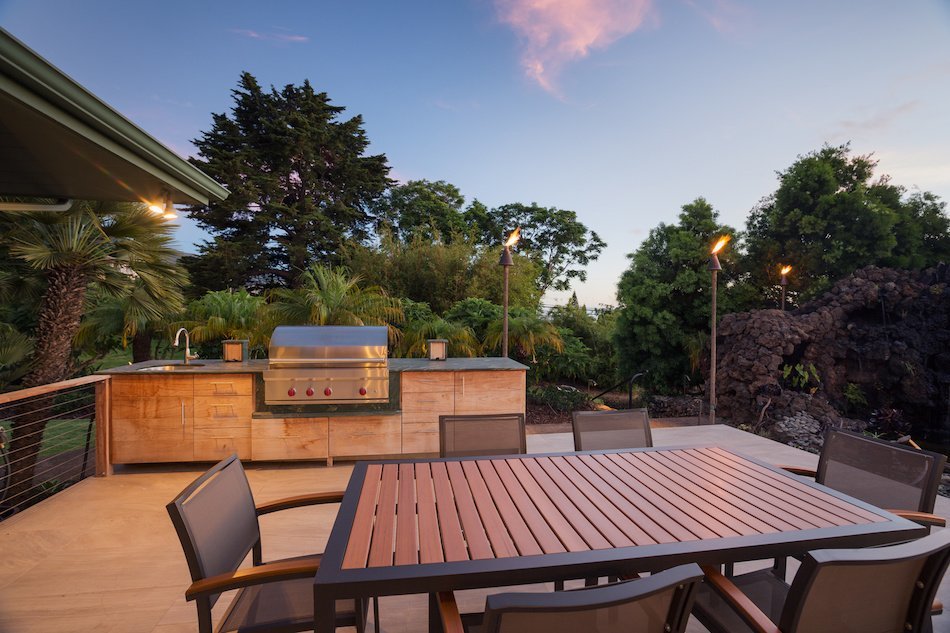 Making an outdoor living space these days is so much more than just setting a few chairs around some greenery. With these ideas for chic and modern outdoor living spaces, any property could be transformed into an outdoor heaven through some DIY and professional renovations.
Entertainment Space
People who like to host a lot of parties at their homes should recognize that they can take advantage of a larger outdoor space to make entertaining varied, engaging, or expansive. An experienced host or hostess knows that people like to have plenty of places to stand or sit. In an outdoor area, the perfect entertaining space features comfortable seating in a variety of colors and styles, ranging from a soft outdoor chaise to rough-hewn stone benches. Unobtrusive but effective lighting is key, so that people can see where they are going after dark, without tripping over cables and cords. Adding a few side tables or bar-height countertops allows people to sit or stand with a drink and a snack in their Vistas home.
Culinary Haven
The idea of cooking outdoors is practically as old as time itself. However, the predecessors to modern man had none of the conveniences that an outdoor kitchen can easily provide. Many people like to keep a barbecue grill in the backyard for the occasional cookout. To take it to the next level, people need to add a few accoutrements that make the outdoor kitchen really practical. These features include:
A sink with running hot and cold water
Effective plumbing to take away waste water
Electricity to run small appliances as needed
Lighting for the workspace and entertainment
Countertops for quick proximity to food preparation
Storage for tools
With all these items in place, any chef could make outdoor cooking into an art form.
Gardening Paradise
For some people, going out to a beautiful garden is the entire reason for having a yard in the first place. This type of homeowner deserves all the tools they need to prepare, take care, and enjoy the fruits of their labor. It starts with effective storage for all the gardening implements, seeds, and soils necessary to keep different flowers and plants looking their best. Effective watering and irrigation techniques allow people to grow all kinds of greenery, depending on the climate. Raised beds and retaining walls, divided by stone walkways and grassy areas, break up the design into an intriguing mix of landscaping and hardscaping. Benches, chairs with cushions, and even large rocks provide the seating necessary to kick back and appreciate nature's goodness.
Water Wonder
Plenty of homeowners like to have a swimming pool, hot tub, pond, or other water feature on their properties. They may not realize that they can roll many or all of these into one great design that showcases all of water's wonderful qualities. Swimming pools can be surrounded by natural stone and waterfalls as a way to make the backyard stand out, but still appear to be a fluid feature of the property. Fountains that bubble water through rocks and flowers blend into the scenery, as if someone was simply walking along a mountain stream. Built-in glass tiles with lighting underneath highlight the water's beauty at night.
Building effective and enjoyable outdoor living spaces is not just a way to turn a regular home into a luxurious lifestyle. It is also a practical method to make use of the space, and to extend the property's efficiency as a source of retreat. With these fabulous outdoor living ideas, people can create their own little slice of heaven that is everything they wanted it to be.