What To Keep in Mind When Making a Home Wish List
Posted by Debbie Drummond on Monday, July 22, 2019 at 12:24 PM
By Debbie Drummond / July 22, 2019
Comment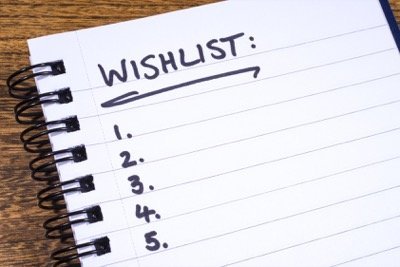 When getting ready to look for a brand new home to buy, most buyers already have an idea of what sort of features they want, and it could be anything from hardwood floors to a big yard with a patio. Before buyers go to home showings, they should put together a home wish list to organize everything they want and have an answer for all the questions their agent will ask when trying to find them the prefect home. Here are some things to consider when making a wish list.
For informational purposes only. Always consult with a licensed real estate professional before proceeding with any real estate transaction.
Wants and Needs: How to Differentiate Between Them
Many people are familiar with the term "wants versus needs" and how it's used to organize a home wish list. For those who aren't, they are exactly what they sound like. "Needs" are features in a home that a buyer needs in order to buy that home and live in it, while "wants" are features that would be nice to have but aren't necessary to have. Here are some more concrete examples of wants and needs:
Wants:
Granite countertops
A gas stove
A pool
Skylights
Needs:
A ranch or similar home with no stairs
Minimum number of bedrooms
Close to school or work
Proper size for the number of people living in the home
It's nearly impossible to find a home that will fit every single desire a buyer has, so it's important to prioritize them by organizing them in two lists to help them focus on the features that are the most important.
The Home's Location
Location is easily one of the most important aspects of buying a new home, but some buyers don't put much thought into it. A home can seem great until the buyer realizes that living there requires an hour-long commute to work. When considering a home to buy, it's important to consider everything about the location. How far away are the nearest shopping centers? What school district is the home in? Are there any nearby parks? These are just some of the questions homeowners should be asking before they even call their agent to set up a showing. After all, there are very few people who would alright finding out that the home of their dreams is located in the middle of nowhere, but with resources like Google Maps, it's easier than ever for homeowners to find out more about the area where a home is located.
The Home's Accessibility
All people are different, and everyone has different needs. Some people can't live in a home if it doesn't have specific features that give them the help they need. When looking for a new home, homeowners should take into account what they need now, what they may need later, and if they have any friends or family with special needs, what those people need if they come to the home. These sorts of things can consist of wheelchair ramps or a first floor bedroom. If a buyer already needs these things or wants them for the future, they have two options: either try to find a home that already has these features, or try to find a home that would be easy to renovate to add them.
Having a wish list can be extremely helpful for Spanish Trails home buyers who are looking for a new home. Having a convenient list that they and their agent can reference at any time can speed up the process of sifting through homes to find the best ones, so all buyers should consider making one.
For informational purposes only. Always consult with a licensed real estate professional before proceeding with any real estate transaction.