Who Has The Best Frozen Custard/Gelato in Vegas?
Posted by Debbie Drummond on Tuesday, September 24, 2013 at 8:03 PM
By Debbie Drummond / September 24, 2013
Comment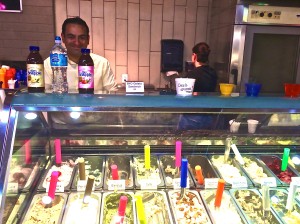 You may be wondering why in the world a Real Estate agent is writing a blog post about ice cream and gelato... It isn't unusual for folks to ask us for recommendations - restaurants, a car wash, health food store, etc. One of our clients wanted to know where they could take the kids for some old fashioned ice cream. The sort of thing you would love going out for on a still hot Summer evening.
When it comes to frozen deserts, the options in Vegas are pretty darned good. On the Strip, especially, you have tons of choices, but we were asked to find the real old fashioned thing. It's easy to go to Wynn, Serendipity or the Gelato stand in the Square at Venetian for an incredible desert. No, we had to explore the casual in the neighborhood spots where you could go without spending a fortune.
For calorie counting reasons, we're still partial to Golden Spoon's non-fat frozen yogurt. You find them at several locations throughout town. And, of course, there are the Yogurtland and You Swirl self serve restaurants.
But for that real old fashioned, home made ice cream taste we came up with a handful of absolute favorites.
For starters, the close to home, go to on the West side is Vivido Gelato in Boca Park. We tried several different flavors and highly recommend any of their chocolates and the Rum Raisin is the one that keeps me wanting to go back.
No quest for the best frozen custard could be complete without a visit to Mr. D's in Henderson. It's on the opposite side of the Valley from us but it's a perfect stop when showing homes in Anthem and needing a little something cool after being in and out of the heat. The flavors are limited to Vanilla and Chocolate. They offer lots of topping for those who want something more exciting. And don't over look the ice cream sandwiches. The super rich ice cream is perfect between a couple of freshly baked cookies.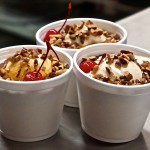 In the Central part of town, our favorites are within walking distance of each other. The Art of Flavors is a place I read about in several of the local food columns. It has lots of great things going for it. We like that it's locally owned with ice cream and gelato that are made fresh daily by the wife of the couple who own the place. We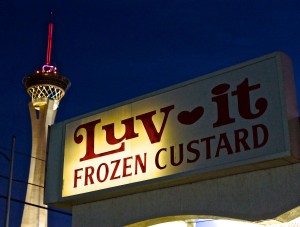 stopped in this past week-end after dinner at Viva Las Arepas next door. The ice cream and gelato here are all natural, made from scratch. We especially liked that they not only let you taste before you buy, they encouraged you to taste before you buy. In fact, the husband started us on the lightest flavored, vanilla. It reminded me of the snow cream my Mom used to make on those rare occasions we had snow in Alabama. Just a bit of lightly vanilla flavored goodness. We also appreciated that the place has tables and you can sit and enjoy your treats. (Big point compared to our other fave). From the introductory taste of the vanilla, we were taken on a tour of the lemon, creme brûlée and my favorite, coconut gelato. We're hooked and we'll be back to 1616 Las Vegas Blvd and Art of Flavors.
We've been fans of Luv-It Frozen Custards for years. This place is truly a Vegas Institution and the place other shops compete with. For more of their story, visit their website here. Their main flavors that are available every day are vanilla and chocolate, but they have a different flavor
Old Fashioned Frozen Custard Just off the Strip
available each day of the week. Like Mr. D's in Henderson, Luv It is not a dine-in kind of place. You stand in line to go up to the window, place your order and either eat it in the glow of the Stratosphere across the street or take it home. This is true old fashioned, frozen custard. Luv-It is also known for its huge assortment of toppings. The menu above their order window promotes a variety of their most popular Sundaes. Another sign boasts that their frozen custard is made with real cream, real eggs and real flavorings. They've been around Vegas forever, and we hope they stay here forever.
We enjoy some of the neighborhood spots around town but our favorites are Luv It and Art of Flavors, hands down. Good thing we don't live next door to them.