Why You Shouldn't Hire Friends & Family in Real Estate
Posted by Debbie Drummond on Saturday, December 19, 2015 at 12:47 PM
By Debbie Drummond / December 19, 2015
8 Comments
Getting a Real Estate License is easy. The rules vary from one State to the next. Nevada licensing requirements start with a 90 hour class. The hours are split between Real Estate Principles and Real Estate Law. After completing the course, the next step is to pass both the State and Federal exams. Some States require more coursework and some less.
Since it isn't hard to get a Real Estate license, chances are you have friends and relatives who have one. Is it a good idea to hire your friend or relative? Odds are that you shouldn't. Before you do, consider the following questions. Your home is one of your most important investments. Would you hire a relative or friend to handle your 401K? You shouldn't feel obligated to hire them as your Realtor either.
How Much Experience Do They Have in Real Estate?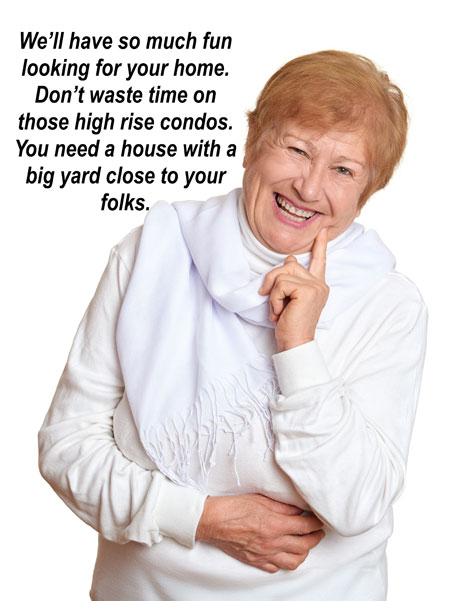 Aunt Sue has had her license for 25 years but has she sold anything lately? It isn't unusual for people who got their license and didn't succeed as a Realtor to hold on to the license. Successful agents may keep their license for years after they've retired. They maintain their license just in case someone they know decides to buy or sell.
The other agent you have to beware of is the newbie. Maybe your Nephew Joey just got his license. If he's working with an experienced Broker or Mentor, it might be worth taking a chance with them. In that case, interview the Mentor/Broker who is advising him. Sometimes a newbie is smart and may work harder to prove themselves. It's still a good idea for them to have a Mentor who can review their contracts to check for mistakes.
Choosing your Realtor can be one of the most important decisions when buying or selling a home. An agent who hasn't been working in the current market can be an expensive mistake. An in-experienced agent may suggest you offer more than someone who knows the market. They may agree when you want to list your price higher than anything has sold for in your neighborhood. In both cases, their in-experience will cost you money. Hiring a knowledgeable Realtor is one of the best ways to avoid getting sued.
Or worse, they could cost you your dream home. We received a lowball offer from an agent who admitted they only do a deal a year. They showed our listing to friends who fell in love with it. When the agent's friends offered 12% less than the list price, our sellers rejected it.
While the folks who made the low ball offer were "thinking it over", we received a cash offer. It was 3% below list price with no contingencies and a quick close. The sellers took the better offer without giving the first buyers a chance to make another one. An experienced agent would have encouraged them to make a stronger offer.
Having a license doesn't mean you're an expert. Experience and closed deals with satisfied clients prove you're an expert. There's much to consider when buying a home. Find an expert who will guide you through all the steps.
How Much Do You Want Friends & Family To Know About You?
Hiring a relative or friend sounds great in theory. After all, who will work harder to protect your interests than someone who knows and cares about you? It doesn't always go that way. Even if Aunt Sue is one of the top Realtors in town, will she listen to what you want or to what she thinks you should want? She keeps sending you homes in gated communities near her house. You keep telling her you want a loft in the warehouse district near the art galleries.
Selling your home with Aunt Sue can be just as risky. Do you want her to know that you took out a second mortgage to finance the new business? Or worse, that you're under water on your home? It might be a real challenge for her not to let that slip out to your parents.
Buying and selling a home can be stressful. Sometimes it's easier to do it with an objective professional that you haven't known all your life. Before you hire a relative or friend, give some thought to how you will feel if things don't work out. Will you blame Aunt Sue or Nephew Joey? How will you feel the next time you see them at family gatherings?
How Do You Hire a Top Notch Realtor?
You'd love to support Nephew Joey who's trying to get started. And we know Aunt Sue is having to make sacrifices to stretch her retirement income. They could use the commission from helping with your deal. Before you commit to working with them, interview at least two other agents.
Look for a Realtor with a strong online presence who is familiar with your neighborhood. There are excellent articles to help you know how to interview a Realtor. Top Real Estate Agents have written stacks of articles with tips for finding one. One of our favorites is Jeff Knox' "Finding the Best Realtor". "Picking the Right Realtor" by Bill Gassett is another useful article with lots of great info.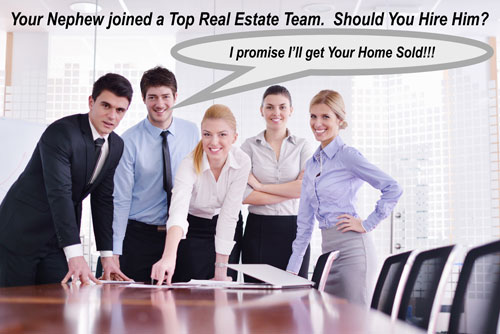 Hiring the right Realtor is an important step to accomplishing your goal. If you're selling, confirm that the agent will provide high quality photos and video as part of their marketing plan. Check the agent's listings. Do they have a history of pricing homes to sell? Or do they have a lot of over-priced listings? Once you've hired someone, make sure you have a clear understanding of what you expect from them. Determine how and at what times your home will be shown. Ask for a detailed marketing plan that's specific for your home.
If you're buying a home, hiring a buyer's agent is a smart move even if you plan to buy new construction. The first thing your buyer's agent is likely to do is refer you to a lender for a Mortgage Pre-Approval. Once you have the Pre-Approval, you and your agent will know how much home you can afford. This is another area where working with family can be a problem. Who wants Aunt Sue knowing how good or bad your credit is? If Nephew Joey finds out how much you earn will he hit you up for a loan?
A Top Buyer's Agent will have their own website for you to search listings. The best Real Estate websites update the listings several times a day. They add new listings as they come on the market. They remove listings that have gone into contract. Some of the well known national websites no longer have access to all the listings. If you're using Zillow for your search, you're likely to miss as much as 20% of the homes listed. You'll also drive your Realtor crazy by asking to see homes that have gone into contract. They're not available but still show up on Zillow.
The Real Estate Market is constantly changing. The Open Houses of yesteryear have been replaced with virtual tours and videos. Aunt Sue or Nephew Joey may not be as up to date with the latest lending and real estate trends. After interviewing at least two other agents, ask yourself how your relative compares to the other agents. You should only hire your relative if they are equally competent.
How do you let your relative or friend know you hired a Top Producing Realtor?
This is a tricky question to answer. Honesty is usually the best policy. If Aunt Sue was a successful Realtor, she'll understand that she hasn't kept up with the market or the latest technology. While she may have her license, she doesn't have a top notch website. She no longer has a list of professional photographers and videographers in her cellphone.
Nephew Joey hasn't had time to accumulate a contact list of inspectors, photographers, etc. He will be asking his Broker or other agents for suggestions. If Nephew Joey is just getting started he may still working a full time job. Will he have the time to work with you?
These are valid reasons for not hiring your relatives and you shouldn't be afraid to let them know. As a last resort, a little white lie may be the only way to spare their feelings. If you can't face telling them the truth, blame it on the in-laws. Surely the Realtor you hired is a distant relative of the spouse's parents. Or maybe your boss wanted you to hire them. That's kind of a cowardly way out but sometimes it's the easiest way to handle them.