Wynn Las Vegas Celebrates 'Dining Issue' of Wynn Magazine
Posted by Debbie Drummond on Thursday, May 10, 2012 at 3:20 AM
By Debbie Drummond / May 10, 2012
Comment
Wynn Las Vegas celebrated the release of their Spring/Summer issue of their Wynn magazine by inviting guests to join them in Tableau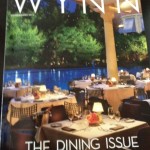 Restaurant for wine and appetizers. This issue of the magazine, appropriately is "The Dining Issue". Several of the Chefs from their restaurants were circulating among the guests. The timing for this issue coincides with one of our favorite "foodie" events. We have Las Vegas Uncork'd this week-end. Food writers and critics from throughout the world will be here along with local foodies, so devoting this issue of their magazine to the dining experience at Wynn was excellent timing.
The foods served revealed the creativity you find in the Wynn and Encore restaurants. Try medium rare steak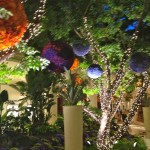 served in a Chinese soup spoon with a horseradish sauce. Our favorite was the Lobster Bloody Mary. On second thought, it might have been the cup of Corn & Crab Chowder. Or the whimsical Chicken with waffle on a toothpick. Have to admit that when the waiter told us that was what he was serving us, I did a double take. Sounded more like a Southern diner than five star, but it was delicious. In fact, we had seconds. Once again, we were reminded that we live in one of the coolest cities in the world. The Wynn is a beautiful property. It offers some of the best designer shops in the world. They have a very good ventilation system so you can walk through the Casino without smelling like smoke when you leave. At the Wynn Las Vegas, you can count on a great experience. Attentive service, great food, great shows and a beautiful setting. If you have a chance to pick up a copy of the Wynn Magazine, you will find it has tempting articles about the restaurants. You can also follow them on Facebook where their profile is a photo of the gorgeous pool at Encore. Who knows, maybe they'll tempt you to come to Vegas.