Las Vegas Mid Century Modern Homes For Sale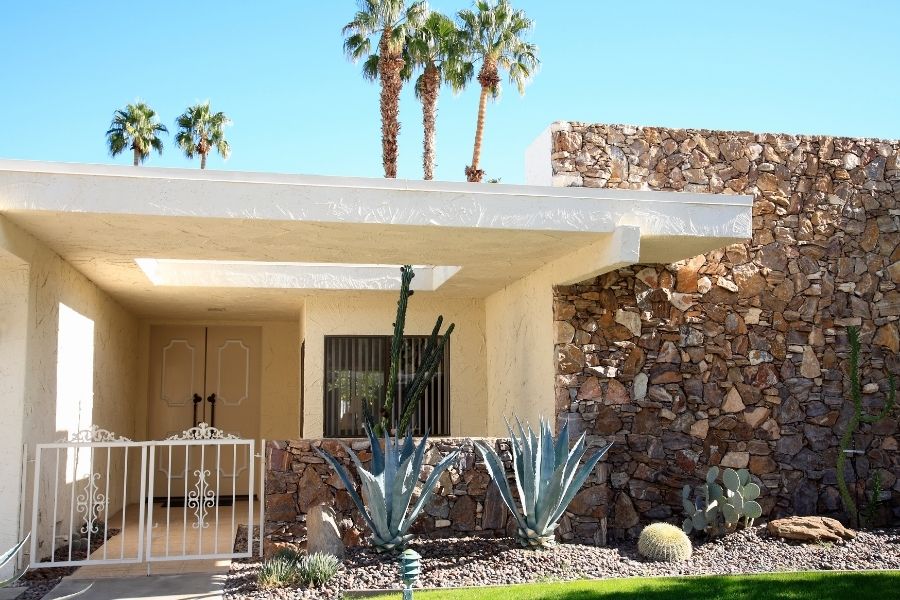 In many cities such as Las Vegas, it is possible to find great examples of homes built in particular styles. Lovers of simple unadorned style constructed during the middle of the last century snap up still-existing examples of the best of mid-century modern-styled homes. No matter their current conditions, restoring such homes to like-new conditions with a more modern flare equipped with efficient materials, or simply renovating them retains the spirit of the original structure.
Continue to read to find the pros and cons of mid-century modern living in Las Vegas.
Looking for mid century modern homes for sale in Las Vegas, Nevada? Check out all available mid century modern home listings below. To learn more about an available property, just click the "Request More Information" button when viewing the details of that property. We can provide you with disclosures, past sales history, dates and prices of recently sold homes nearby, and more.
Also remember to register for a free account so that you can receive email alert whenever new mid century modern homes in Las Vegas hit the market. And for additional help searching Las Vegas mid century modern homes, contact us at your earliest convenience or as soon as you're ready to take the next step in your Las Vegas area home search.
Search Las Vegas Mid Century Modern Homes For Sale
December 5, 2023
Are you planning to buy or sell a Las Vegas mid century modern home?
Contact Debbie Drummond, local Las Vegas real estate expert, for help navigating the current market conditions. Call or text
(702) 354-6900
now to schedule a showing for a home you'd like to preview!
Characteristics of Mid Century Modern Homes
Mid century modern architecture is one of the most distinctive and recognizable styles there is when it comes to home designs. Characterized by straight lines, sharp angles, wide open spaces, and lots of large glass windows throughout, many of the original mid century modern homes you'll find in Las Vegas were built between 1945 and 1965, although the style is still commonly used today for new construction homes because of its unique fit with the surrounding desert landscape.
Key Mid Century Modern Features
Deliberate flow between rooms. The open nature of mid century modern floor plans is one of the primary reasons it continues to be such a popular design choice today. Many of today's home buyers love open layouts that flow together while remaining functional for a modern family and nothing accomplishes this more than mid century modern design.
Blending of interior and exterior spaces. Integrating natural surroundings is a big component to mid century modern architecture, which is why it works so well in a place like Las Vegas. The sunshine, warm climate, and tranquil desert setting help create a sense of privacy, calmness, and connection to nature, all foundational principles that helped shape the style.
Straight geometric lines. Flat planes and clean horizontal lines help define a mid century modern home's look and feel. Flat roofs are also a common element, enabling a home to appear expansive, elongated, and free of distraction from contrasting shapes and angles.
Where to Find Mid Century Modern Homes in Las Vegas
Although Las Vegas doesn't quite have the same relationship with mid century modern, or desert modern, as Palm Springs, both cities exploded shortly after World War II, which is why buyers will find mid century modern homes in just about any part of town. Of course some Las Vegas neighborhoods feature more options and better curb appeal than others but if it's truly a mid century home you're after, here are just a few locations we recommend checking out during your home search:
Paradise Palms. The Paradise Palms neighborhood consists of 1,000 homes that were almost all built between 1960 and 1965. Simply put, Paradise Palms is where you'll likely find the most authentic and most desirable mid century modern homes in all of Las Vegas. Search Paradise Palms homes for sale.
Summit Club. If you're looking for a newer construction home with a modern mid century vibe, Summit Club checks that box. As a Discovery Land Company community, the lavish homes and the resort style amenities make this one of the premier lifestyle communities you'll find anywhere in the desert. Search Summit Club homes for sale.
Twin Lakes Village. The Twin Lakes Village neighborhood offers affordable mid century modern homes in a convenient location just outside of downtown Las Vegas. Easy access to major highways, big box retailers, and even the Las Vegas Strip make this neighborhood a great spot for first-time home buyers, investors, and anyone in between. Search Twin Lakes Village homes for sale.
What Makes Mid-Century Homes Special?
This style is a striking architectural departure against dark, heavy materials and the classic design forms of the past. Mid-century homes were characterized in the 40s and 50s by organic and essential forms, linear lines, large masses, and simplicity in merging nature with technology. These types of homes are sometimes referred to as glass houses, as they feature broad expanses of glass to integrate the indoor spaces of the house with natural surroundings. Classic mid-century homes are in high demand.
Pros & Cons of Mid-Century Living in Las Vegas
Pros
Simple Elegance. The design style is all about clean lines and a less-is-more approach. If a streamlined approach is what you seek, there is no better place to go mid-century modern than in the kitchen.
Mix & Match. No matter how you choose to accentuate the interior of your home, it is easy to add in a mid-century modern flare. A mid-century piece can blend in perfectly while adding texture and intrigue to a room. When mixed with other styles such as Art Deco or contemporary, it is easier than ever to bring the style into your home.
Bold Statements. Large glass windows make a bold statement with their squarish design, as the mid-century design is timelessly iconic.
Cons
Outdated Look. While beautiful in its ties to nature, many see the mid-century design as outdated.
Sterile Appearance. Clutter-free is a great look, though all-white clean edges can appear a bit sterile.
Not Energy Efficient. Mid-century homes are not energy efficient in their construction and can be prone to leaky roofs and drafty windows. They can be difficult to maintain and expensive in callbacks.
Thoughts
Mid-century modern homes typically have broad expanses of glass to integrate indoor spaces with natural surroundings. Glass walls, glass doors, wing walls, and "fins" of stone are hallmarks of the design. Whether it is the design you admire or the hardships that come with the maintenance, it is a personal decision to choose if mid-century modern living is for you.