Las Vegas and Henderson Town Homes
Looking for a home that's easy to maintain but not quite ready to give up having a yard? Townhomes can offer many of the advantages of the carefree condo lifestyle without sacrificing having a small yard.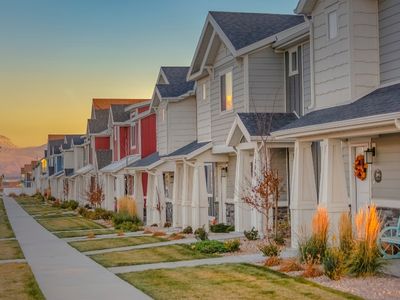 The primary difference between a condo and a town home is that in a condo, you only own the airspace within the walls. In Las Vegas, a townhome owns the ground beneath their unit and the airspace above their unit. Townhomes can be single story or two story. Most have a small backyard or patio.
Buyers who are looking to downsize without having a neighbor above or below them should consider buying a town home. Most town home communities do have a community swimming pool. Some have fitness centers. The common areas are maintained by the HOA. Buyers who are using a mortgage often find town homes can be financed easier than condominiums.
Townhouse living over the years has gained popularity as it serves as the perfect middle ground between urban and suburban living. Think of townhouse living as a means of living within a close-knit community existing in a quieter environment.
Continue to read and follow us for a closer look at the pros and cons to consider before investing in buying a Las Vegas townhouse.
Las Vegas Townhomes
Las Vegas Townhouse Statistics
December 3, 2023
Search All Real Estate For Sale in Las Vegas
See TODAY's New Listings, search by beds/baths, home & lot size, listing status, days on market & more!
Thinking of a move to Las Vegas? Read our Las Vegas Moving & Relocation Guide.
Buying a Townhouse: Pros & Cons
Pro— Affordability
Townhouses, for their smaller sizes, are generally more affordable than traditional detached homes. They sit on smaller lots, provide minimal outdoor space, and they share walls with neighbors. Because of the lack of space, upkeep is seen as being cheaper.
Con—Small Square Footage
Townhouses have less living space indoors than they do outdoors. Floor plans can be less open than in traditional detached homes, and they are designed as being split up into multiple floors. This can be a problem for big families, or for families that own pets that require frequent outdoor running space. Townhouses can at times feel limited, or even downright cramped!
Pro—HOA & Great Amenities
Townhomes in Las Vegas are built in communities that are accompanied by HOA (Homeowners Association), as well as shared amenities. Some of these amenities may include outdoor walking trails, luxury pools, clubhouses, and sports courts. HOA fees on the other hand are responsible for paying services such as snow removal and landscaping. This can be alluring as these are seen as added conveniences, making townhouse living worth pursuing.
Con— Less Freedom
As we discussed above, sharing HOA services and amenities can be enjoyable and convenient, they can also double as meaning less freedom when it comes to your home. HOAs tend to have rules about the appearance of your home (think the color of your house, or an unpainted fence), and there is the possibility of being financially responsible for things you don't want to use as part of your HOA responsibilities. We recommend researching townhouse communities in your area and choosing one with an HOA that is a good fit for you.
Pro—Friendly Neighbors
Townhouses offer proximity to your neighbors and, as a result, provide a sense of a stronger community. If knowing your neighbors and being able to talk to them often is alluring to the social butterfly in you, a townhouse may be the right fit for you! Events can be organized in townhouse communities, such as seasonal barbecues and celebrations. This can be a surefire way to get residents to know one another to build connections.
Con— Less Privacy
Whilst it is always fine to enjoy being close to your neighbors, it is important to know that townhouses limit your privacy. Shared walls can mean hearing voices or loud noises (tools or music) coming from your neighbor's home. This proximity living also means you will see more of them. While this can mean you may encounter them often as you come and go, this may not be the preferred scenario for someone who enjoys solitude and an isolated living space.
Buying a Townhouse: Overview
Townhouses have many benefits— an active engaging community, affordability, and convenient proximity to living amenities. It all comes down to the proper research and deciding if that lifestyle is right for you and your family. Townhouses are often constructed in areas that smoothly transition from urban to rural, you will more than likely enjoy the proximity to metro areas without the hassle of being in the thick of it. You may not have that often yearned for private outdoor space as you would living in a detached home, a shared outdoor area oftentimes has walking trails and parks that can make up for this mishap. Townhouses can provide a good balance.
Contact Your Las Vegas Realtor.
Contact your Las Vegas Townhouse Expert